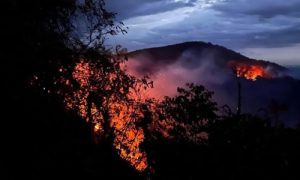 Patrick County Emergency Medical Services (EMS) Director Scottie Cassell said early Thursday morning that the Tuggles Gap Fire involved 1,000 acres, with 35 percent contained.
However, he anticipated it to have jumped the fire line overnight Wednesday as it had on Tuesday.
But that did not happen, and the blaze remained at around 850 acres, County Administrator Beth Simms said at a press conference Thursday.
Emergency crews are on the scene of the wildfire in the Ravens Den, Tuggles Gap, and Blue Ridge Parkway area of Woolwine, Patrick County Emergency Management said in a release.
The county-wide burn ban remains in effect and will remain in effect until further notice.
We have "have one continuous line all the way around it. It's a line that we are defending to keep it from spreading. We can't call it contained because it's still active burning, but these are the lines where we are stopping it," he said.
Cassell anticipates at least three or four more days of actively fighting the fire.
"We're fighting the wind this morning. The thing with the wind, it's actually driving" the fire, he said.
Airdrops of water from helicopters are scheduled for today and Friday.
"We're still praying for rain, but we are still planning to hold what we've got, our lines," he said. "If it takes us until we get rain or whatever, we will hold these lines as long as we need to until this thing's completely out."
On Wednesday, a call went out for Tylenol, Advil, and individual packs of wet wipes for the crews.
Since then, Cassell said there have been deliveries of cases of wet wipes and "more Tylenol and Advil and stuff like that than we know what to do with. We're actually sending bottles of that out in the field for the sore joints and everything."
Currently, he said crews have the supplies and personal items they need.
A Declaration of a State of Emergency was issued by Gov. Glenn Youngkin on Tuesday, Nov. 7, which specifically names the Tuggles Gap fire along with others in the state.
If you have any concerns regarding your home's safety, call the Patrick County Sheriff's Office Dispatch non-emergency number (276) 694-3161. If it is an immediate or life-threatening emergency, please call 911.