The Meadows of Dan Ruritan Club and Fire Department will host the 56th annual Pancake Days fundraiser on Sunday, October 15, and Sunday, October 22, 2023, from 7 a.m. until 7 p.m. at the Meadows of Dan Community Building (2858 Jeb Stuart Highway, Meadows of Dan, VA 24120).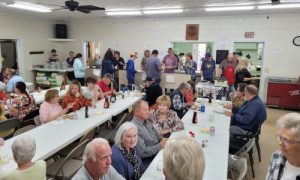 The Pancake meal features a selection of buttermilk pancakes, buckwheat pancakes, sausage, gravy, and all the fixings. Both buckwheat and buttermilk pancakes have never been made from a mix. Clara Harrell and Claudia Wood provided the original recipe that is still used today. 
Prices at the door are $12 for adults, and $6 for children ages twelve and under. Cash and credit cards will be accepted. To-go orders are available and Neese's freshly ground sausage, seasoned just right, will be available for sale, too. Commemorative tee shirts will be available for purchase.
More than 50 years ago, this event started serving $2 plates raising $200. Currently, an average of 2,200 people are served each Sunday. People come from states away—Maryland, Pennsylvania, West Virginia, North Carolina, and South Carolina. One couple stumbled across the very first Pancake Days on their honeymoon. They have made it a yearly trip. Pancake Days is a tradition not just for our mountain town but for all those who have been gathering with us for over half a century.
Proceeds from Pancake Days benefit various local community causes and organizations including the volunteer fire department, rescue squad, schools, college scholarships, food drives, and other needs in Patrick County. When someone has a need in this community, they know they can bring it to the Ruritans. It is the money raised at Pancake Days that allows the Ruritans to help.
"Families from miles around come together to host Pancake Days," said Debra Shelor, Ruritan Treasurer. "The impact on our community is significant by supporting youth education, ensuring our local safety squad can care for area residents, and that our community building remains a place for all area events."
"The Ruritans aren't the only organization putting on the event," says Emily Handy, Chairman of Pancake Days. "It's also the fire department and the rescue squad. We could not do this without them. It isn't about a group; it is about everyone coming together."
This is an intergenerational Fall tradition that has persisted for over 50 years. Bring the family for a not-to-be-missed event and become part of our heritage.
Tax-deductible donations are being accepted online for those who cannot attend. Visit the RuritanMOD.square.site for more information or to donate today.
Chartered in 1949, the Meadows of Dan Ruritans, a 501(c)3 non-profit organization, is committed to supporting our local communities through volunteer service and fundraising to support local events and organizations. Meetings are held the first Thursday of each month at 7 pm at the Meadows of Dan Community Building.