The Patrick County Chamber of Commerce's Scarecrow contest is getting a revamp(ire) this year to 'Monsters on Main Street.' Businesses, individuals, and organizations who would like to create their own monsters are encouraged to participate in our free contest.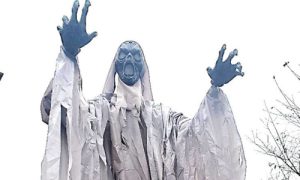 Once registered with the chamber, you will be given a spot along Main Street, Blue Ridge Street, or Patrick Avenue to display your creation. Businesses along those streets will receive first accommodation for their displays to be next to their establishment. Other entities will be assigned at random.
Traditional monsters of vampires, Frankenstein, and Cookie Monster are acceptable, along with new monster creations of homework monsters, stress monsters, or even scarecrows. All are still welcome.
When all monsters are installed, signs will be displayed with the name of the monster, business, company, individual, or organization it was created by, and a link to the online voting form.
Monsters will be installed by Friday, October 13 and voting will take place between October 13 and October 31 for the Stuart Spooktacular.
Registration for Monsters on Main Street runs through October 4. To register and for a complete list of dates, details, and rules, visit the chamber's website.