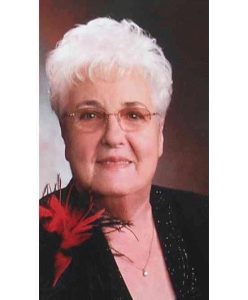 Angeline Smith Foley, 92, entered Heaven's gates to be in the presence of her Lord and Savior on Friday, November 10, 2023.
Born in Henry County, Virginia on June 7, 1931, she was the daughter of the late Charlie Lee Smith and the late Dora Cox Smith. She is survived by her daughter, Sonda Foley Boles of Kinston, NC. She leaves to cherish her memory two grandchildren, Chadwick Lee Boles and wife Audrey of New Hill, NC, and Amy Boles Williams and husband Jeff of Winterville, NC. Additionally, she has two great grandsons, Jackson Lee Boles and Kaleb Tristan Boles and these little guys were the love of her life. Preceded in death by her husband, Rev. Jack Foley, a minister of the Gospel for over 70 years, they had two precious children who died in infancy that were waiting for her in Heaven, Steven Lee Foley, and Lois Annette Foley. She will be hugging them for eternity! Being an only child, Angie was accepted into the Foley family of 10 children which was a large group of folks to love her. Even though most of them have passed away, she has left behind 2 of Jack's brothers, Sam Foley and wife Helen of Richmond, Texas, and Marvin Foley of Stuart, VA. Waiting for her when she entered Heaven was her very favorite son in law, Roger Boles, who was more like a son and loved her dearly.
During their marriage of 68 years, Jack and Angie were privileged to pastor the following churches of the Cornerstone Conference of the International Pentecostal Holiness Church: Valley Chapel PHC, Collinsville PHC, Preston PHC, Patrick Springs PHC, and Wilson Street PHC. Additionally, they pastored God's Mission for two years after retirement. As a minister's wife, Angie supported Jack in every endeavor and aided him in teaching Sunday School, organizing a Women's Ministry, playing the piano and working with choirs and trios. She was never one to sit idly by but was always ready to lend a helping hand to aid whatever ministry had a need. She was a great listener and encourager, especially to the ladies of their church congregations. In addition to all their church work, Angie worked in the business offices of several large companies locally and was the Office Manager for Jack Foley Sawmill, Inc. for 40+ years.
Funeral arrangements are Tuesday, November 14, at the Patrick Springs PHC. Visitation is 1:00, followed by the funeral at 2:00. The funeral will be livestreamed from Patrick Springs Pentecostal Holiness Church's Facebook at https://www.facebook.com/psphc
Burial will follow at Mountain View Cemetery in Ridgeway.
Wright Funeral Service is serving the Foley family. Online condolences may be made at www.wrightfuneralservices.net.