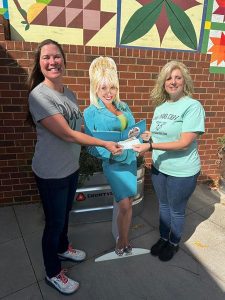 Thanks to The Back Yard Cow for donating their Saturday, Oct 7 sales to the Patrick County Dolly Parton Imagination Library.
Between sales and donations, a total of $630 was raised! These funds help the program to continue to mail out a book a month to kids in Patrick County that are younger than 5 years old. 
The Patrick County Dolly Parton Imagination Library is the local partner with the national program and in partnership between the Chamber of Commerce, One Family Productions, Step Inc., and Stuart Rotary Club. 
For more information on the program visit the chamber's website, www.patrickchamber.com
The Back Yard Cow is a seasonal ice cream shop located in Woolwine, Virginia. It is owned and operated by the Merriman family. Their last day for this season was Sunday Oct 8. They will reopen in April featuring a great list of ice creams, sundaes and floats.