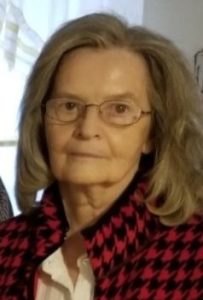 Mrs. Barbara Ann Rorrer Wood, age 79, of Stuart, Virginia went to her heavenly home on Friday, November 10, 2023, at Stanleytown Health and Rehabilitation Center in Bassett. She was born in the Fairystone park area of Patrick County on August 18, 1944, to the late Harold Oakley Rorrer and the late Mozell Chaney Rorrer. In addition to her parents, she was preceded in death by her husband, Marion Akers Wood; and a sister-in-law, Rodaliah "Sissie" Gilley Rorrer. She worked at United Elastic where she met her husband and was married on July 10, 1965. Barbara had retired from Hanes Brand in Martinsville. At a very young age she began living and babysitting with families while attending school. Barbara was a member of Providence United Methodist Church. She loved returning to the Rorrer homeplace each Sunday to be with her siblings and their families. Barbara was known for her great coleslaw, creamed potatoes, and delicious banana pudding each Sunday at her family gatherings. Barbara had faced many obstacles during her life with her health, but she never gave up and always kept the faith. She was a beautiful soul and a very classy lady. Barbara was a special aunt to many nieces and nephews, which included great nieces and nephews too. She always supported them in their adventures such as beauty pageants, dance recitals, band, and sports. Barbara was a loving wife, sister, aunt, cousin, and friend. Barbara will be sadly missed by all who knew and loved her.
Left to cherish the fond memories of Barbara Wood are three sisters and brothers-in-law, Sue Rorrer Carter of Fieldale, Virginia, Betty Rorrer Peal (William) of Stuart, Virginia, Verna Rorrer Shepherd (Ernie) of Bassett, Virginia; two brothers and sister-in-law, Elwood Harold Rorrer (Faye) of Stuart, Virginia, Larry Wayne Rorrer of Bassett, Virginia; one special aunt, Clemmie Chaney of Stuart, Virginia; one sister-in-law, Charlotte Wood of Stuart, Virginia; several nieces, nephews, special cousins, and friends.
A funeral service for Mrs. Barbara Wood will be held on Tuesday, November 14, 2023, at 1:00 P.M. at Moody Funeral Home Chapel in Stuart with Pastor Rick Randall and Pastor Derrick Layman officiating. The burial will immediately follow the funeral service in Patrick Memorial Gardens. The family will receive friends on Monday evening, November 13, 2023, from 6:00 P.M. to 8:00 P.M. at the funeral home. Flowers will be accepted, or memorial donations in memory of Barbara may be made to the Fairystone Volunteer Fire Department, 6687 Fairystone Park Hwy., Stuart, VA 24171. Moody Funeral Home in Stuart is serving the Wood family, and online condolences may be sent by visiting www.moodyfuneralservices.com.