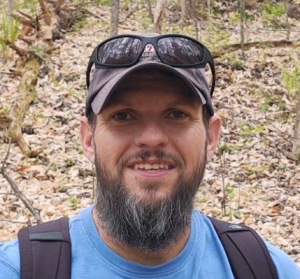 Mr. Barry James Wood, age 42, of Greensboro, NC passed away on May 26, 2023, at UNC Hospital in Chapel Hill, NC after a long battle with non-alcoholic cirrhosis of the liver. He was born in Martinsville, VA on July 30, 1980. He lived the first 35 years of his life on the mountain in Vesta, VA loved by his parents, J. Michael Wood and Veda Horton Wood; brother, Michael Ray Wood (Martha), sister, Suzanne Wood Rorrer (Curt); nieces; Michael, Sonora, Fiona, and Sabrina; and all of his aunts, uncles, and cousins. He spent the last happiest years of his life in Greensboro, NC loved by his wife, Candace "Hayley" Wood and their son, Wesley Michael Wood; father and mother-in-law, Bill and Beth Dunn; brother-in-law, Jason Dunn (Sarah); nieces; Emma and Harper; nephew, Grady; a special friend, Dot Runde; and all of Hayley's aunts, uncles, and cousins.
Barry enjoyed going to the movies, golfing, taking road trips and hiking. His greatest achievement and light of his life was his son Wesley. Barry loved to spend time outside with Wesley playing in the yard, playing golf, and going for walks in the park. He looked forward to sweet nights reading books and rocking Wesley to sleep, but also early mornings being woken up by his sweet little voice. Barry couldn't wait for the day when Wesley was old enough to take on his first trip out West. He would tell Wesley when they saw mountains or stars just wait until we get to Montana buddy, and he would say to him when they were on a hike that they were training up for Half Dome.
Barry was the sweetest guy with the biggest heart, and he will be missed by everyone blessed enough to know him.
Funeral Services will be held Tuesday, May 30, 2023, at 11:00 AM at Moody Funeral Home in Stuart, VA with Pastor Marcus Wood officiating. Burial will follow in the Plaster Family Cemetery in Vesta, VA. A Celebration of Life will also be held on Saturday, June 3rd from 1pm-5pm at 24 Winterberry Ct, Greensboro NC 27455. All friends and family are welcome to stop in. Online condolences may be sent by visiting www.moodyfuneralservices.com.
In lieu of flowers, memorial donations may be made to the Plaster Family Cemetery, c/o Linda Hopkins, 1233 Elamsville Rd, Stuart VA 24171 or to Barry's Memorial Fund for Wesley's trip out West at https://gofund.me/968b8c55.
The family of Mr. Barry Wood would like to extend their sincere gratitude and appreciation to the Liver Transplant Team at UNC Medical Center. They recognized what a great guy Barry was, and they knew how hard he was fighting, so they fought the battle with him until he was eased into God's Hands.