The Patrick County Board of Supervisors heard a broadband update at its Monday, October 16 meeting from RiverStreet Networks and Appalachian Electric Power (AEP) representatives. Representatives from Charter-Spectrum did not attend the meeting.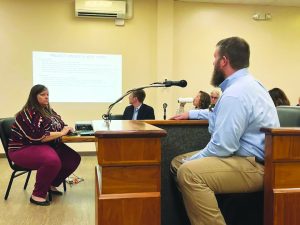 Clayton Kendrick, chairman, and of the Mayo River District, requested the update, and interim County Administrator Tim Hall made the arrangements.
Amanda Cox, of AEP, said the 2022 Virginia Telecommunication Initiative (VATI) program is for universal coverage for Patrick, Henry, and Franklin counties.
"We've also got RiverStreet Networks as your last mile provider and Appalachian Power coming in as utility leverage," she said.
Cox said utility is part of the project in part because the service territory has rough terrain, sparse populations in some areas, and power lines running all through the area sometimes up to the transformer with the fiber lines.
"So, we're trying to penetrate a little deeper into the residential neighborhoods because we don't live closer together. We're spread out in rural areas, and our whole service territory pretty much looks like that," she said.
AEP also uses dual-purpose fiber for its internal communications, Advanced Metering Infrastructure (AMI), automatic switching, access points, and other things of that nature, and "then lease the dark fiber to the last mile provider to provide connectivity," Cox said, adding the utility leverage is also housed in AEP's power zone.
"So, if there's any kind of outage we're going to get in there and work with your provider," she said. "We're going to be making repairs to the electric service and to the fiber in our power zone."
With the utility leverage, Cox said AEP drops right down into RiverStreet, who then connects to the homes.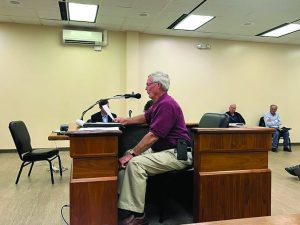 "So, you're going to skip a lot of that engineering, a lot of that construction. We'll come in and do pole replacements on the backside. So, you're really going to see some movement on this project," she said.
The project is 380 miles in Patrick, Herny, and Franklin counties and will serve approximately 12,000.
Just on the AEP side, Cox said it's a project worth $57 million.
"So, that really tells you the type of build that it takes to connect some of these rural areas. In Patrick alone, there are 144 miles," she said.
AEP won approval for the project on August 3. "We've been having bi-weekly meetings with RiverStreet, their engineering team, everything is going right along. According to our schedule we're set to start construction" at the six-month mark, she said.
Cox added AEP is also looking at some of its preexisting fiber in the areas to hopefully have some faster connections to some of the customers.
Zach Church, RiverStreet's Director of Engineering, said the VATI 2023 award locations include 3,424 locations, 116 route miles, for a total cost of about $8 million.
"Overall locations that are touched right now is 8,376 and about 636 miles of fiber is what we'll be doing. That's taking off from areas that Amanda and AEP are able to build and extending on out," he said.
Church estimates this will be about $50 million. He said RiverStreet is looking to start construction during the first quarter of 2024.
The engineering groups have been meeting and "discussing priority routes where we can get those guys started building fiber early to also connect some" of the facilities "as well as those portions coming in probably from our Stokes network so we can extend into Patrick and then work to tie in Franklin and Henry as well," he said.
Church said the companies are trying to start all three counties at the same time so there's movement everywhere.
"Once we get those priorities, we'll start setting up to know which routes and roads will be going through there," he said, adding the next steps include securing Appalachian Regional Commission (ARC) funding for the VATI 2023 match and submitting a notice of application to the Department of Housing and Community Development (DHCD) for a possible VATI 2024 application.
Steve Terry, of the Patrick County Broadband Committee, said broadband projects are believed by many experts to be one of the biggest boosts to rural economies and quality of life.
"The supervisors reconstituted the broadband committee at the request of a group of citizens, and we began meeting monthly six years ago in November. Starting with our very first meeting, we scheduled presentations from the broadband consultant or internet service provider each month for most of the first year," he said.
Terry said RiverStreet made a presentation at the March 2019 meeting and AEP presented at the May 2019 meeting. After reviewing proposals sent in as a response to a Request for Proposals (RFP), he said the committee unanimously recommended the county select RiverStreet as its partner.
Terry said the broadband committee also requests that citizens be updated monthly on the status of these critical projects.
"Broadband availability is a huge factor in many decisions impacting the existing businesses and homeowners as well as those considering moving here," he said.