Food Country USA has been in the news lately with the acquisition of Lowe's Foods in Stuart. The Lowe's Foods site has undergone many transitions over the years; it used to be Sky City, and before that, it was Charles Powell's duck ponds!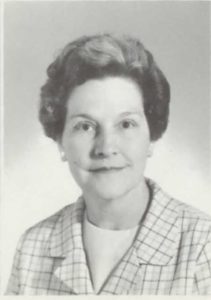 In 1980, the property was purchased by V. R. Williams, who in turn sold it to the North Carolina firm that built Stuart's first shopping center. On the hill above the duck ponds sat a majestic brick home, built by Judge A. M. Lybrook in 1865. This magnificent home was torn down in 1983 to build what is now known as Stuart Family Restaurant; at the time it was first built, the diner was known as Druther's. 
When I was a young girl in the 1970's, Mr. Powell had a pair of swans in his ponds, and he would always decorate for Christmas with Santa Claus sitting in a boat on the pond. Mr. and Mrs. Powell owned the Judge Lybrook home from the 1950's until the sale to Williams in 1980. According to a 1983 article written by Nancy Lindsey for the Enterprise, Judge Lybrook's heirs sold the home in 1903 to William Hughes Clark and his new bride, Mary Ellen Howard.  Mr. and Mrs. Clark chose the name "Glenwood" for the home where their four children would be born and raised. 
Lindsey interviewed the Clark's daughter, Mrs. Mary Howard Clark Mooney in 1983 and Mooney shared the following information, "the 150-acre farm on the outskirts of downtown Stuart was a marvel of industry and beauty combined, with beehives, smokehouse, cider mill, springhouse, greenhouse, acres of fruit trees, grape arbors, vegetable gardens, and a flour mill. From the Glenwood farm, father built the area's first electrical power plant and furnished power to many families in the community. He ran the flour mill, the cider mill, and in 1889, he purchased the Patrick Springs Hotel, which was a popular resort known for its' healing waters."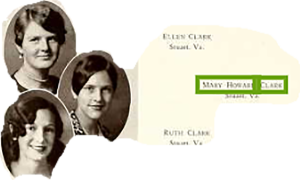 Mrs. Mooney was a schoolteacher at Stuart Elementary/High School, and I recall her as being a very kind, soft-spoken lady. I remember she lived in an apartment over one of the businesses on Main Street. I had no idea that she had grown up at the home that I knew as the Charles Powell home. 
I did a little research on Mrs. Mooney and her family and discovered the following…. Mrs. Mooney's father, William "Will" Hughes Clark was born in 1863 to Joseph Martin Clark and Ella Virginia Jefferson Clark. Will Clark was the oldest of eight children born to the couple, then came May Carlton, Joseph Jefferson, Edward Lybrook, John Robert, Walter Ernest, Lillian Ann, and Bessie Ella. 
Will married Nancy Pickeral on the first of November 1884; the couple had two daughters, Dovie and Daisy. Tragically, Nancy died in 1900. Will married Miss Mary Ellen Howard from Floyd County in 1903 and they begin their lives at Glenwood. The couple's son, William Hughes Clark, Jr. was born in 1909, followed by daughters, Ellen in 1911, and Mary Howard (Mrs. Mooney) in 1912, and son, Charles Martin Clark in 1917. The same year, Will's brother, Walter Ernest Clark, was crushed to death by a railroad car. Walter's widow, Mabel Lawson Clark, and their two children, Ruth, born in 1913, and Walter, born in 1916, moved to Glenwood. 
Tragedy struck in the years 1923 and 1924, with Mary Ellen Howard Clark dying of a gallbladder infection and her husband, Will dying the following year. Mrs. Mooney's aunt by marriage, Mabel, continued to live at Glenwood and raise her two children, Ruth and Walter, and the four children of Will and Mary Ellen Clark.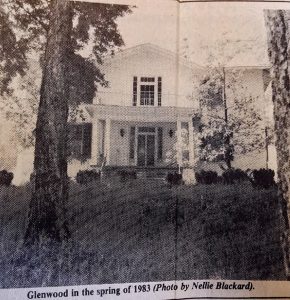 In Lindsey's interview with Mrs. Mooney, she shared memories of growing up in this blended family, "I treasure the memories of my parents the decade before they died, but later on when my aunt and cousins came to live here, we were part of an extended, happy family at the old homeplace. I can remember taffy-pull parties, riding horses up Dobyns Road, and riding the Dick and Willie train to Danville with my sister Ellen and cousin Ruth." 
All three of the girls, Mary (Mrs. Mooney), her sister Ellen, and cousin Ruth attended Greensboro College together and I managed to find a photo of all three girls together in the yearbook. The girls looked so beautiful and stylish with their bob haircuts. Ellen married first, in March of 1933, to Brent Angel of Surry County. Ellen died only seven months later of acute pancreatitis; she was only 22 years old. Mary married in 1937 to Blaise Bate Mooney, a mechanical engineer, and they moved to Queens, New York.  Cousin Ruth married in 1939 to Robert Blevins, a railroad superintendent and they moved to Richmond. 
Mrs. Mooney passed away in 1994 at the age of eighty-one and Cousin Ruth died at the age of 100 in 2013. Although Mrs. Mooney and Cousin Ruth moved away from Stuart for a while, they returned back to Patrick County and all three Clark girls, Ellen, Mary, and Ruth were laid to rest at New Hope Methodist Church cemetery in Five Forks. 
Woody may be reached at rockcastlecreek1@gmail.com or (276) 692-9626.