A new book, "The Memoirs of Bracky Rogers: A Mayflower Descendant Growing Up in Mayberry," was recently released, and published under Tom Perry's Laurel Hill Publishing LLC.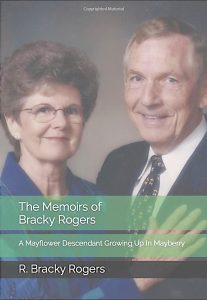 The book is about the life of Bracky Rogers, a real estate agent, auctioneer, and close family friend, who came from a poor, divorced family that forced him to become the "man of the house" at a young age, Perry said.
"This is one of those American Dream kind of stories. He grew up very poor and really a self-made man, got married, had children, got into realty, and then he got real big into auctioneering, and now he's probably one of the biggest auctioneers in the country if the truth be known," Perry said.
Perry said Rogers took care of his two younger siblings, went into the U.S. Army, went to college, and taught school before getting into the real estate business.
The book's title comes from the fact that Rogers can trace one side of his genealogy all the way back to the Mayflower and the other back, nearly to the colony of Jamestown.
"I don't know about you, but my family, they were probably stealing the king's pigs and hiding in the woods while Bracky's were riding the Mayflower," Perry said, laughing.
Rogers said he decided to write his memoir at the insistence of several people he met throughout his life. 
"The idea behind the book is how I lived, where I came from, and where we've been blessed to become what we have," he said.
In his book, Rogers tells how his son, Mark, handled the sale of Betty Lynn's (Thelma Lou), of The Andy Griffith Show, estate.
"She had given most of it away, but she had some things that we sold to be auctioned to finalize, as well as the estate," he said.
Rogers' company also handled the estate sales of actress Frances Bavier, and county music singer Donna Fargo. Bavier gained fame as Andy Griffith's Aunt Bee, and Fargo may be better known for a song she popularized, "The Happiest Girl in the Whole USA."
Perry said Rogers contacted him about a year ago to ask for assistance in writing his memoir.
"I said sure. It was funny, he called me when I was out following Lewis and Clark out the Missouri River last year. He called me when I was in Montana or somewhere," Perry recalled with a chuckle. 
When Perry returned from his trip, he and Rogers started working on the memoirs. It was nearly a year until it was completed.
"Bracky has had two major surgeries since we started working on this book, and so that cut into our time a couple of times, but he's 87 and he's okay, but he's had a time," he said.
Perry said anyone who rides around Patrick County in Virginia or Surry County, N.C., will see the signs bearing the name of Rogers' business, Rogers Realty. 
"It's a family business. His son, his daughter, and his daughter-in-law, they're all in the business, his grandchildren are in the business. They all work with Rogers Realty. So, it's very much a family affair kind of thing," Perry said of the book that marks the third memoir to benefit from Perry's assistance in writing and publishing.
The 256-page book is available on Amazon as a paperback and at Pages Bookstore in Mt. Airy, N.C.