The following camps will be offered in July at the Reynolds Homestead in Critz, and registration is still open.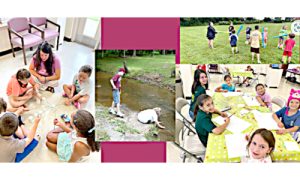 At THEATRE CAMP, campers will experience all facets of youth theater, including acting technique, improvisation, set and costume design, and connecting with the audience. The camp will start on Monday, July 10, and conclude with students performing a short show on Thursday, July 13. 
This camp is a perfect opportunity for interested youth to learn the basics in a fun and friendly environment. 
Registration link: https://bit.ly/RHtheatre23
Led by Brook Smith & Kim Boles
July 10-13, 9 a.m.-12 p.m.
$70 ages 8 and up
WAIT LIST AVAILABLE – Plants are taking over! This hands-on interactive ART CAMP will dive into the world of animals and plants with a focus on invasive species with instructor Grace Helms. Campers will explore fun, nature-themed projects spanning water color, acrylic painting, and more! A public reception will be held on Thursday, July 20 at noon for friends and family to view the amazing art work created during camp. Email Melanie Gilbert (mtgilbert68@vt.edu) to join the wait list for art camp.
Led by Grace Helms
July 17-20, 9 a.m. – 1 p.m.
$45 ages 7-12
SCIENCE CAMP brings science, technology, engineering, art, and math concepts together to encourage campers to design, build, experiment, and play! Science in Motion will challenge campers to prototype vehicles, build kites and balloon courses, and participate in a variety of games.
July 24-27 10 a.m. – 2 p.m.
Registration Link: http://bit.ly/scienceinmotion23
Led by local educator Stephen Biedrycki
$60 ages 9-13
Please bring a bagged lunch.