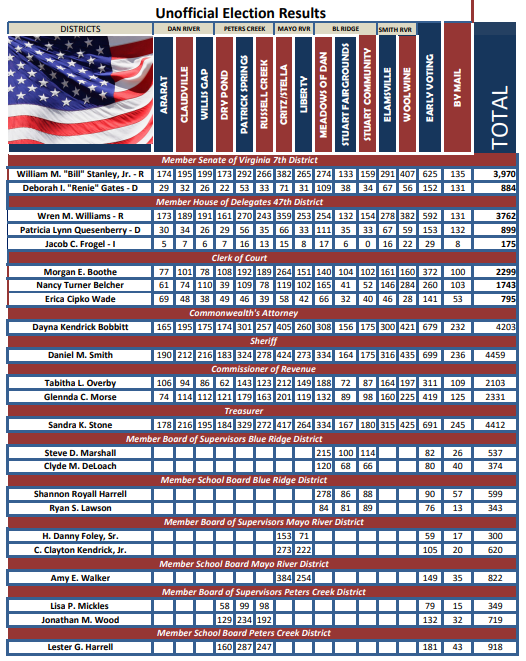 In the three-way race for the Patrick County Circuit Court Clerk post, Morgan Boothe emerged as the winner, while Glennda Morse was the top vote getter in the race for Commissioner of Revenue.
As the interim clerk, Boothe faced challengers Nancy Turner Belcher and Erica Cipko Wade. Unofficial results indicate that Boothe received 47.47 percent, or 2,299 ballots to Belcher's 35.99 percent, or 1,743, and Wade's 16.42 percent, or 795 ballots. Write-in votes for the office totaled six, with 3,812 votes cast overall, according to unofficial results.
Boothe garnered 256 votes in the Dan River District; Belcher received 245 and Wade received 155, with two write-in votes, for a total of 658 ballots cast.
In the Peters Creek District, Boothe picked up 489 votes, Belcher garnered 226 and Wade received 134. Including one write-in, 850 votes were cast. In the Mayo River District, Boothe received 415 votes, to Belcher's 221 and Wade's 100, with a total of 736 ballots cast.
Boothe garnered 346 ballots in the Blue Ridge District, with 258 cast for Belcher and 138 for Wade, for a total of 742 votes cast.
In the Smith River District, a total of 826 ballots were cast, including 430 for Belcher, 321 for Boothe and 74 for Wade.
Early voters cast 372 ballots for Boothe, 260 for Belcher and 141 for Wade, while By Mail voters cast 100 ballots for Boothe, 103 for Belcher and 53 for Wade.
A total of 3,812 votes were cast overall, unofficial results indicate.
In the Commissioner of Revenue contest, Morse was the top vote getter, with 2,331 ballots to the 2,103 cast for Tabitha Overby. Unofficial results indicated 3,477 voters cast a ballot in the contest.
Jonathan Wood won his bid for the Peters Creek District seat on the Patrick County Board of Supervisors, with 719 ballots to the 349 cast for Lisa Mickles.
Lester Harrell ran unopposed for the Peters Creek District seat on the Patrick County School Board and picked up 918 votes.
Incumbent Mayo River District Supervisor Clayton Kendrick, Jr., easily fended off Danny Foley's bid to unseat him, picking up 620 ballots to the 300 cast for Foley.
Amy Walker, incumbent school board member for the district, also won her unopposed bid for reelection, with 822 ballots.
Clyde DeLoach, incumbent Blue Ridge District member of the Patrick County Board of Supervisors, lost his bid to Steve Marshall, who won 537 votes to the 374 cast for DeLoach.
Shannon Harrell, Incumbent Blue Ridge District member on the Patrick County School Board, won her race against challenger Ryan Lawson, with 599 votes for Harrell to Lawson's 343.
Incumbents in uncontested county wide races also handily won reelection, including Commonwealth's Attorney Dayna Kendrick Bobbitt, with 99.17 percent of the vote; Sheriff Dan Smith with 98.41 percent of the ballot and Treasurer Sandra Stone's 99.10 percent, unofficial results indicated.
According to unofficial results, incumbent Sen. William M. "Bill" Stanley, Jr., R-Moneta, defended his post against challenger Deborah I. "Renie" Gates, and incumbent Del Wren Williams won his bid against challengers Patricia Lynn Quesinberry, a democrat, and Jacob. C. Frogel, an independent.