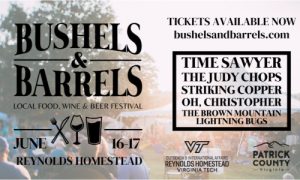 Bushels & Barrels Local Food, Wine & Beer Festival will take place, as always, on the third weekend in June at the Reynolds Homestead in Critz, Virginia. With a farm-to-table dinner on Friday evening, homebrew competition, and music all evening on Saturday, there is something for everyone at this family-friendly event. 
This collaborative production between Reynolds Homestead and One Family Productions continues to grow, hosting a stellar lineup of local and regional acts. Last year saw the opening of a second performance area for musicians, and this year, that stage will feature two artists in addition to the three on the main stage.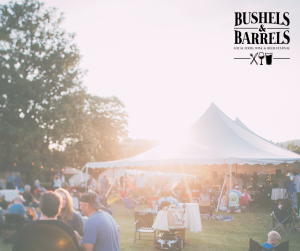 Folk-rock band Time Sawyer has performed on the stages of some of the Southeast's most iconic festivals. The band name reflects the pull between the past and the future, and the songs call out the attitudes and behaviors that lead to divisions and do what might seem impossible– holds listeners accountable, but at the same time, draws them in and makes them feel good about what we all have in common.
For the past decade, The Judy Chops have been carving out their niche in the Virginia music scene by delivering heartfelt, passionate live shows with charm and grace. This musical family has grown from a four-piece roots music act to a seven-piece "Americana Brassband" that The Huffington Post lauded as "genre-defying!" Combining elements of blues, rock, swing, soul, and classic country, this group of musical chameleons appeals to audiences young and old with their modern take on vintage sounds.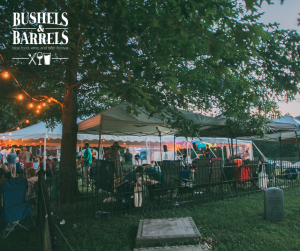 Eclectic, familial folk-rock group Striking Copper effortlessly combines rhythm-driven rock, haunting vocal arrangements, and harmony-rich Americana. Led by powerhouse copper-haired twins, iconic front-women Allie and Jacquie Lee are inspiring trendsetters and natural performers who own every moment of the limelight. The band has built an incredible fan base over the years with tours spanning the Eastern Shore. An intriguing contrast of light and dark, feminine and masculine, their lyrics bleed passion, drawing from humanity with an undeniable vulnerability.  
Patrick County native Chris Owens has been singing and playing guitar for over half his life and in a variety of genres, and his solo project Oh, Christopher is an outlet for his incredible song writing and engaging stage presence. According to Chris, the hallmark of a good songwriter is the ability to pen lyrics in which listeners can see and feel themselves, and in his recent album he has captured that talent exactly. Evoking emotion and painting a vivid and relatable story, each tune Chris delivers feels like home.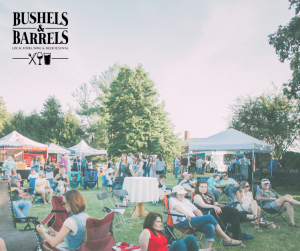 If Jerry Garcia and Tom Waits made an Appalachian music duo, it might sound a little like The Brown Mountain Lightning Bugs. Hailing from Winston-Salem, North Carolina, Zack and Kendra Harding blend the traditional with the trippy to create original music they like to call "folk(ish)." Officially formed in 2016, the two have played extensively throughout the Southeast. The Brown Mountain Lightning Bugs aims to create a concoction of sounds that gets a lot of toes tapping and heads bobbing, and maybe make a few friends along the way. 
Bushels & Barrels is pleased to have the support of Clark Gas & Oil again this year in bringing the farm-to-table dinner to Reynolds Homestead on Friday, June 16. Featuring music by local jazz ensemble Five Brothers and a catered dinner by Pickle & Ash, this enchanting evening is always a community favorite. This dinner is sure to sell out, so secure tickets early.
The annual No Business Mountain Homebrew Competition is an invitation for hobby brewers from around the area to submit their beers for review and the opportunity to gain valuable feedback as well as prizes. Information for the homebrew competition can be found at bushelsandbarrels.com.
Bushels & Barrels Local Food, Wine & Beer Festival is a well-established part of Patrick County's festival collection and promises to deliver a stellar experience again this year. Tickets are on sale now for the events on June 16 and 17 and can be purchased at www.bushelsandbarrels.com. There are a variety of ticket levels and bundles available, including a designated driver option.