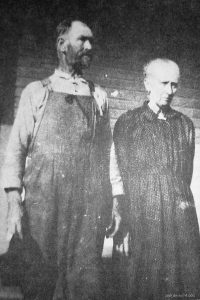 First of all, I would like to thank Andrew Doss, the great-great grandson of Cain Lackey, for all the information provided for this column. When we last visited Lackey, the year was 1893, and he was recently widowed with 4-year-old Malissa and newborn Carrie to raise on his own. 
The following year, local minister William A. Elgin was hosting popular Church of the Brethren evangelist, John Abe Dove, who had been holding revivals all over Virginia and North Carolina. While the two ministers were traveling about the countryside inviting folks to come to church, they came across Cain Lackey, who was digging some ditches for his neighbor. 
When Pastor Dove headed toward Lackey, Pastor Elgin said, "don't go down there, Cain Lackey is the worst man in this county." Dove replied, "he's the very man I want to see, because Christ came to save sinners." When Dove asked Lackey to come to church, he responded with hesitation that he would come. Lackey attended church that night, and he kept on coming back! On the last night of the revival, Dove asked for those who wanted to give their life to Christ to come forward. The small church was overflowing, and the aisles were crowded with people. Overcome with the Holy Spirit, Lackey stood on the back of the pew in front of him, with his baby daughter in his arms, going from pew back to pew back, until he reached the front of the church!  
From the night of his conversion, Cain Lackey was a changed man. He had never learned to read or write, but now had a strong desire to learn more about the Christian faith. He asked Pastor Elgin for a Bible and proceeded to teach himself to read and write. He was later quoted as saying, "The Lord Jesus has been my teacher." 
The same year as his conversion, Lackey married Miss Louvenia Carter, the daughter of Joseph and Mary Hylton Carter of Floyd County. Cain and Louvenia were both twenty-four years old. The year following their marriage, they added a daughter named Ida Belle, followed the next year by their first son, James Paul, and a year later, Barney Lackey was born. The young couple now had three daughters and two sons. Tragedy struck again in 1900, when Louvenia died at the age of thirty. 
Cain Lackey began the new century at the age of thirty-one, having buried two young wives, and two infant children. These were very hard times, but Lackey never lost his faith. He devoted his life to caring for his family by farming and sawmilling and evangelizing to those that reminded him of himself before his conversion. It was not unusual to find Lackey preaching openly to the drinking men at a "corn husking." 
In 1904, Lackey married Miss Hattie Virginia Elgin, the daughter of Alfred Elgin and America Houchins of the Woolwine community. Coincidentally, Hattie was the sister to the minister who had called Cain Lackey "the worst man in the county" only ten years before! 
Next week, we will conclude our journey with Cain Lackey by learning more about his life in the ministry. Thank you again to Andy Doss. Woody may be reached at rockcastlecreek1@gmail.com or 276-692-9626.