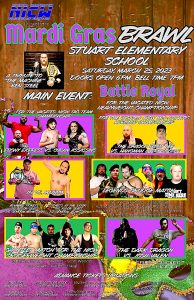 National Independent Championship Wrestling (NICW) will hold a Mardi Gras Brawl to honor "The Machine" Ken Steel, a former pro wrestler from Patrick County, better known to some as Kenny Pack.
The show will be held Saturday, March 25 in the Stuart Elementary School's auditorium. Doors open at 6 p.m. and the first bell will ring at 7 p.m.
Scott Rutter, of Rutter's Martial Arts, said Steel was a former independent pro wrestler for 20 to 25 years before his death more than a year ago due to diabetes.
"He actually was an assistant football coach for a few years over at Patrick County High School (PCHS), and he worked for a program called Quest over at Stuart Elementary School," he said. 
Before his passing, Rutter said he and Steel kind of co-owned NICW. The promotion serves the West Piedmont area. In addition to training him in wrestling, Rutter said Steel also was a great mentor, and like a second father to him.
"As a matter of fact, I own martial arts studios — one in Stuart, one in Bassett, and one in Floyd, and he (Pack) was a big help and a big motivator for me opening the karate school up in Floyd," Rutter said.
The March 25 event is because "wrestlers in the community and local wrestlers wanted to do something just as a tribute to" Pack, and "also to do it at Stuart Elementary where he worked," Rutter said, adding that proceeds from the event will go back to the school and to Steel's family. 
The show will include six matches, plus a Battle Royal for the vacated NICW Heavyweight Championship will be the main event.
"That was the championship that Kenny had held until he passed away. So, that one's going to be decided in that Battle Royal," Rutter said.
Other championship matches will be for the vacated NICW Tag Team Championship, the vacated NICW Mid-Atlantic Heritage Championship, and a five-man Gauntlet match for the NICW Cruiserweight Championship. 
A Legends Grudge match and two other singles matches also will be held.
"All the guys who are in the Legends match are kind of the ones that all either trained or came up with Kenny when he started wrestling," Rutter said. "Everyone that's on the card wrestling has either trained with Kenny or have been on shows with Kenny, and they all think a lot of him."
He estimated 25 wrestlers will perform during the event.
Rutter said around 200-300 people usually attend the wrestling events. The auditorium can hold 500 people between the 300-floor seats and 200 bleacher seats.
"We really want to invite as many people as possible to come out" to the show, he said.
Before the matches begin, Rutter said some of the wrestlers will be out to meet the fans, sign autographs, and sell their merchandise.
Advance tickets are $12 for floor seats and $10 for bleacher and general admission seats. Tickets at the door are $15 for floor seats and $12 for bleacher and general admission seats.
Advance tickets can be purchased at Stage Coach, the Stage Coach Wagon, El Rancho, Boyce-Holland Veterinary Services, Lowes Foods, Country Convenience, and Little Caesars.
Concessions will also be available for purchase. 
For more information, call Rutter at (276) 340-3944.