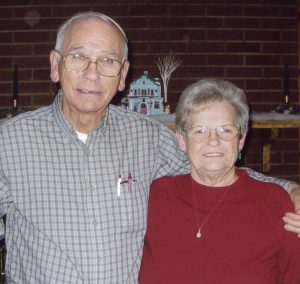 Mr. Clark Gable Boyd, age 84, of Ararat, Virginia passed away unexpectedly on Friday, October 13, 2023, at Forsyth Medical Center in Winston-Salem, surrounded by his loving family.
Clark was born April 13, 1939, in Patrick County, Virginia to the late Harvey and Sarah Gwynn Boyd. He was a loving husband, father, grandfather, great-grandfather, brother, and friend. Clark was one-of-a-kind and loved to talk and carry on with people. Mr. Boyd retired from Bassett Furniture after 47 years of service and will be deeply missed by all who knew him.
Surviving is his daughter and son-in-law, Tammy Boyd Rocha and Jose; two sons and daughter-in-law, Ronnie Boyd, Roger Boyd and Dena; five grandchildren and spouses, Brittany Inman and Jonathan, Benny Boyd and Stacey Gwyn, Jesse Boyd, Joseph Boyd and Mariah, Connor Boyd; three great-grandchildren; two sisters and brothers-in-law, Margaret Boyd and David Brown, Judy Boyd Johnson and Jimmy; brother and sisters-in-law, Donald Boyd and Christa, Jewel Boyd; along with several nieces and nephews. In addition to his parents, Mr. Boyd was preceded in death by his wife of 63 years, Shirley Jean Cain Boyd, whom his missed dearly and longed to be united with when he entered his heavenly home. As well as three sisters, Louette Boyd Bolen, Josie Boyd Epperson, Annie Boyd Johnson; and four brothers, Jesse Boyd, Monroe Boyd, Roger Boyd, and Clifford Boyd.
A funeral service will be held on Wednesday, October 18, 2023, at 12:00 PM at Chestnut Grove Missionary Baptist Church in Ararat, Virginia will Rev. Arlis Thomas officiating. Entombment will follow at Skyline Memory Gardens in Mount Airy.  Friends wishing to pay their respects, his body will lie-in-state Tuesday, October 17, 2023, beginning at 7:30 AM. Then the family will receive friends on Tuesday evening, from 6:00 PM until 8:00 PM at Moody Funeral Home in Mount Airy. The body will also lie-in-state on Wednesday, October 18, 2023, from 11:00 AM until the time of the service at the church. Moody Funeral Services in Mount Airy has been entrusted with the arrangements. Online condolences may be made at www.moodyfuneralservices.com.