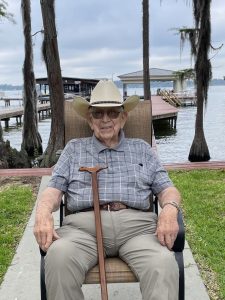 Mr. Glen Franklin Hazelwood, age 89 of Stuart, passed away Sunday, October 15, 2023, at Kate B. Reynolds Hospice House – Trellis Supportive Care, in Winston-Salem, North Carolina. He was born in Patrick County on August 18, 1934, to the late James Ernest Hazelwood and Cappie Shelton Hazelwood. In addition to his parents, Mr. Hazelwood was preceded in death by his wife, Nancy Louise Gunter Hazelwood; a son-in-law, Randy D. Armstrong; and seven brothers, Leonard, Troy, Earl, Emory, Herman, Cecil and Charles Hazelwood. He attended True Gospel Church and loved listening to gospel music, especially at Dominion Valley Park. He loved being called "Papa" and was also known as "Nature Boy", watching westerns and wrestling. He never met a stranger or a person he couldn't love and was known to many as "Santa Claus."
Mr. Hazelwood is survived by his daughter, Mildred Armstrong of Walnut Cove, North Carolina; two granddaughters, Amanda Stephens (Nate) and Sara Sullivan (Derek); five great-grandchildren, Kaleigh Stephens and boyfriend, Johnny Dotson, Bryson Stephens, Jack Stephens, Tyler Sullivan and Ryan Sullivan; several nieces and nephews; special nephew, Danny Hazelwood; special niece, Debra Hazelwood Davis; and special neighbors, Tommy and Regina Massey.
Funeral services for Mr. Hazelwood will be held Wednesday, October 18, 2023, at 2:00 p.m. at Moody Funeral Home in Stuart with Pastor J.R. Shelton officiating. Burial will follow in the Five Forks Wesleyan Church Cemetery. The family will receive friends one hour prior to the service at the funeral home. If desired, memorials may be made to Kate B. Reynolds Hospice Home or to Mountain Valley Hospice. Online condolences may be sent by visiting www.moodyfuneralservices.com.