After serving more than 20 years on the Patrick County Economic Development Authority (EDA) Board, Bill Clark, its chairman, will not seek reappointment when his current term expires in August.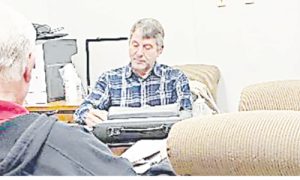 "My kids are grown, Mary's (his wife's) kids are grown, our parents are both gone, and we have this golden window of opportunity where we both still have our health, we love to travel," Clark said.
Additionally, "I'm in the process of buying a house in Florida, and I'm divesting myself of as many responsibilities as I can so I can enjoy life while this golden window is open," he said.
A belief in term limits also influenced his decision.
"If I truly believe in term limits, my term should probably have expired several times ago," Clark said. "After 20 years of service in various roles, my term should end, and let other younger individuals learn the path and lead us into the future."
During his more than two decades in serving the county, Clark has served on the Planning Commission, Industrial Development Authority, and the EDA, where he has worked under several different county administrators and organization directors.
Clark said getting Walmart to build a supercenter in Stuart was one of the greatest accomplishments during his tenure on the EDA.
Brokering that deal "was a biggie," Clark said. "It was a little controversial at the time about Walmart coming in. You know, the little story (that) Walmart comes to town and everybody else leaves.
"Walmart has been a good employer for a number of years," he said.
Clark said Walmart's presence has led to further development, with Wendy's and Advance Auto Parts located nearby.
"From a development standpoint," the decision "was a good one," he added.
Clark said the EDA also has worked to retain current employers, working to secure incentives for industries like Hanesbrands Inc., and Ten Oaks.
"We've developed multiple Enterprise Zones throughout the county. That has attracted businesses and been able to expand businesses," he said, adding "there's been a lot of studies done as to what the county needs."
He noted the EDA has also felt a lot of headwinds over the years, partially because it does not get funding other than what it does itself.
"If we get grants, it's great. Other than paying the salary of the EDA director, the EDA does not get any money from the county. There's no taxpayer money that has come to the EDA," Clark said.
One thing Clark wanted to accomplish, but was unable to do, was attract a hotel to locate in the county.
"A boutique or even a name brand hotel that would spur tourism," he said, and added that was in no way intended "to take away from the world-class resort we have at Primland, but to enhance travel into the area.
Of course, not everybody can afford to stay at Primland, so this would be an alternative" for many, Clark said.
He also wanted to build a trail system, try and get some funding for a federal farm-to-table operation, and help get a United States Department of Agriculture (USDA) red meat processing center started.
"There was funding available for that, but we just couldn't get enough traction for some reason on some of these items because the EDA cannot own businesses by law.
"We can have property and lease property, but we can't own a business. So, you have to get traction in the community to try and do these things," he said.
Clark said the most expensive and incomplete project that remains unfinished is the Business Development and Recovery Center on the corner of Rucker Street and Rye Cover Road in Stuart.
"I hope this center will become both the incubator of future businesses and if necessary, a business recovery center should disaster befall a local business and they need a temporary recovery space," he said.
Clark noted the $600,000 grant the EDA received for a mobile healthcare unit is also starting to be spent on building the unit that hopefully will bring primary healthcare options to areas in the county that need it.
"The EDA is in the best financial condition it has seen for a long time, but the amount of liquidity it currently has is only a fraction of what it could use. It is my sincere hope that in the future, it will find the board of supervisors seeing a way to fund the EDA to grow the county," he said.
Clark said the biggest thing he will miss is trying to work through the issues of securing grants for the county's businesses. He will also miss working with the other EDA board members.
"I do absolutely wish the EDA all the best. It's an extremely strong and dedicated board, although probably 95 percent of the people in the community do not know what the EDA does," he said.
Clark noted that is probably the fault of the EDA, as "we tend not to toot our own horn" when it has successes.
"It is my hope that two-way communication between departments and the public will be improved in the future," he said. "After all, we serve the community."