Charles Drake is ready to make a difference and help the county in any way he can after starting his new role as a grant writer on July 10. The position will be shared by the county and school division.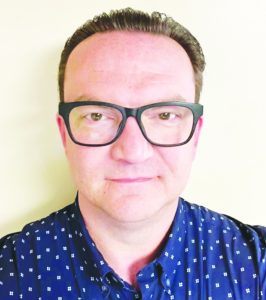 Schools Superintendent Jason Wood said the school division is paying the salary and benefits for the position, and deducting half of that amount from the quarterly School Resources Officer (SRO) payment it sends to the county.
Drake's "office is in the school board office, however, he is splitting time between both the county and the school division and looking for grant opportunities that would benefit us both," Wood said.
Interim County Administrator Tim Hall said the position will be split 50/50 with the school board. 
Drake, 50, said he applied for the post because he felt it would give him an opportunity to make a difference.
"I know how important it is to obtain those kinds of grants, or different types of grants, and how it impacts the community, and the folks in the community," he said.
Drake previously worked for the Rowan County Health Department in North Carolina and Smart Start Rowan, where he was involved in the grant writing process.
In this role, Drake will be responsible for finding and applying for grants to benefit the county and the school division, with some possibly overlapping and benefiting both sides.
"They came together in this decision," Drake said. "They had some opportunities they wanted to take advantage of with some grants, but they didn't quite have the staffing to make that happen. So, they had decided to invest in the position and try to obtain enough grants to make it worthwhile for sure for the cost of the salary and benefits."
Drake said his secondary duty will be collaborating with other departments and directors who already have grants to see how he can help them with grant management and grant applications they might not have the time to prepare.
While he is looking at some grants, Drake said he is primarily trying to wrap his head around the grants the county and school division currently have.
"I do have a couple of leads on some grants. There are not specifically any that have a deadline right now, but there's some that they missed out on in the past and they really don't want to miss out on in the future. So, we're just looking at some of those," he said.
Drake said his main goal is to look for what the county needs and help the community out by working to make it a better place.
"I just want to make a difference and do what's best for the community and help everybody out, no matter who they are or where they're at. Just to try to reach multiple grants that could benefit all walks of life," he said.
Drake believes his strength will be his experience in being put on a team managing and developing it from scratch. 
As his biggest fear is not finding open grants, Drake is open to hearing from others who know of possible grants. He said there's been several opportunities in the past, with the COVID-19 pandemic making it more available to local communities.  
"I just hope they continue and hopefully we can grab ahold of some of those and make them happen," he said.
Drake has been married to his wife Rebecca, a travel nurse, for six years. The couple have three children.
A 2003 graduate from High Point University, Drake has a degree in finance.
He started his professional career working for Winn-Dixie before he took a manufacturing job where he moved up the chain from labor work to corporate accounting. He was at this job for 19 years, including six years in corporate accounting.
Drake then worked for the Rowan County, NC, Health Department for about nine years before he took a position at Smart Start Rowan for two years. He also owned his own coffee shop for two years. 
In his free time, Drake enjoys riding his side-by-side and spending time in nature camping and hiking.