Last week, we learned about David Harbour Martin and Harriet Elizabeth Bowling; this week we will learn about one of their seven children, Willie Beamer Martin. Willie was born on the 15th of August 1878 in the Smith River district of Patrick County. At the age of 18, Willie married Miss Nancy Ingle Belle Handy, the daughter of William Isaac Handy and Caroline Virginia Foley of Patrick County. The young couple made their home in Trot Valley at the foot of the mountain.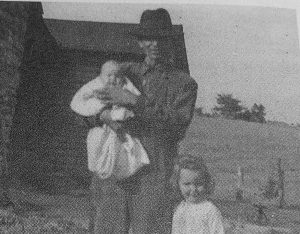 The following year, 1898, Willie and Nancy's first child, Bertha Smoot was born, followed by Vergie in 1900, Hattie Mae in 1902, and Benjamin in 1904. Moir Beamer came along in 1907, John David in 1910, Richard Saunders "Buster" in 1912, and Lady Jean in 1914. Baby Wilbert Martin was born in August of 1919 but only lived seven months. Sadly, 14-year-old Benjamin had passed away the year before in 1918. 
Willie and Nancy's children all grew up and married into local families; Bertha Smoot (a midwife) married James Jackson Holt, Vergie married Walter Rucker Belton, Moir Beamer (a furniture worker) married Bernice Lucy Law, John David (a salesman at Stanley Chevrolet) married Mary Williams, and Lady Jean first married Charlie Glen Ayers. Only Willie and Nancy's daughter Hattie Mae married someone that wasn't from Patrick County; she married Milton Moore from LaGrange, North Carolina. Richard Saunders, a World War II veteran, never married. 
Tragically, wife and mother Nancy Ingle Belle Handy Martin died of a ruptured appendix in 1936; she was 58 years old. Willie Beamer Martin remarried on October 2, 1937, he was 59 years old and his new bride, Miss Virginia "Otra" Roberts was 17 years of age. Otra was the daughter of William Henry Roberts and Minnie Stovall of the Mayo River district. 
The following year after Willie Beamer and Otra were married, their first child, Virginia Ellen Martin was born, followed by William Elbert in 1940, then Nancy Evelyn, Eva Gayle, Glen Edward, and Edna Lou. Sadly, William Elbert died at three months of age from pneumonia. 
Virginia Ellen Martin married Harvey Glenn Fulcher in 1955 and they raised six daughters together. Saying they raised six daughters isn't entirely accurate because Ellen took care of me while my parents worked in the mill, along with dozens of other children over the years! Ellen recently wrote down the names of all the children that she had kept over the past five decades and it totaled over 200 children!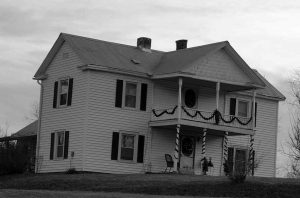 Even though it has been fifty-five years since Ellen last babysat me, we still talk quite frequently. The remaining part of this column will be Ellen's words and memories of her father, Willie Beamer Martin. "My Daddy helped to build the first paved road in Patrick County. This was the old 58 that ran from Martinsville to Stuart, and he hauled sand in a two-horse wagon. Main Street in Stuart was not paved until 1929. Daddy was a saw miller; his saws were operated by steam for years. He cut the timber and milled the lumber that was used to construct High Point Baptist Church on Big A School road. Daddy lived behind the J.P. Stevens plant in Stuart in earlier years."
Ellen continued, "In January of 1938, Daddy purchased a farm from Jim Campbell called the "Sowder" farm. He bought 139 acres and a two-story house for $3,000.00; the mailbox was one mile from the house. A trail used by horse and wagon was replaced after Daddy gave land for a road and helped put it in for free. Daddy's first tobacco crop sold for $.03 per pound and the entire crop brought just under $300.00. Mama and Daddy planted cane, corn, wheat, rye, oats, soybeans, and tobacco." 
Ellen recalled that corn shucking's were quite the social event of the autumn season, filled with food, fun, and music. Neighbors would come from all around to help shuck corn to store in the crib (pictured above) and often, the men folks found a surprise (Mason jar) in that big pile of corn. Willie Beamer could play the banjo and the organ and passed that musical talent down to many of his grandchildren, including Ellen's six daughters, who can all play the piano. 
Ellen also recalled taking their corn and other crops to Sheppard's Mill near the North Carolina line and the excitement she felt when she and her sisters could find enough matching feed sacks to make new dresses. 
Although Willie Beamer owned a truck in the early 1900's, he never learned to drive. Ellen related the following story, "One of my friends offered to teach Daddy how to drive. Daddy cranked the vehicle, stepped on the gas, pulled back at the steering wheel while shouting, Whoa! Whoa!. His last attempt at driving ended when he drove through one of his outbuildings. He never tried again. Daddy gave up the timber business to tend to 'his little girl'. He began farming when I was a baby, and I was his 'little helper.' Daddy raised several of his grandchildren and I grew up amongst Daddy's grandchildren and great-grandchildren." 
Willie Beamer Martin passed away on November 29, 1956, at the age of 78. He lived to see Ellen's first daughter, Virginia Dianne, who was born three months before he passed away. In Patrick County, there remain many descendants of some of the fifteen children of Willie Beamer Martin. Thank you so much to Ellen Martin Fulcher for sharing the story of her father. Woody may be reached at rockcastlecreek1@gmail.com or (276) 692-9626.