Patrick County High School Class of 1973 met Saturday, September 23, 2023, to celebrate their 50th Class Reunion. It began with a tour of PCHS followed by a social hour and a short program before a catered dinner at the Eagles Club. A time of remembrance was held in memory of the 27 deceased classmates. The Class of 1973 has always held a reunion every five years.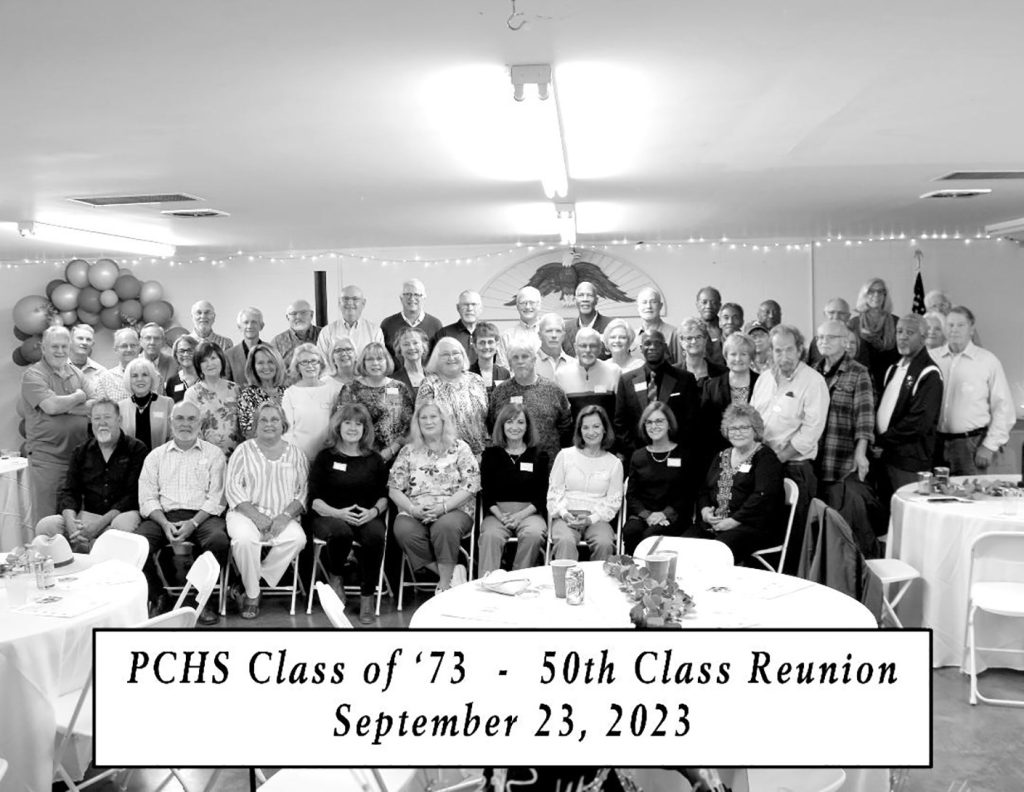 Class of 1973 – Seated – Jeff Amos, Dean Harbour, Stephanie Turner Martin, Bessie Clark Weber, Karen Elgin Wheeler, Carol Blackard Wood, Connie Blackard Abdullah, Janet Montgomery Reynolds, Sharon Hooker Marshall.
2nd Row – Dianne Lyon Hunt, Freda Spencer Gilmer, Marla Haynes Johnston, Karen Adams Kroplin, Karen Shockley Coleman, Velma Marshall Anders, James Hyler, Ronnie Harris, Frank Tatum, Verneice Hill Alley, Edward Niten, Victor Williams, Lewis Joyce, David Anderson.
3rd Row: – Rick Hill, Ronnie Collins, Wanda Inman Hill, Joe Knight, Jennifer Thomas Nowlin, Linda Griffith Dunlap, Jackie Griffith Belcher, Larry Fulcher, Karen Turner Fulcher, Becky Tuggle Platt, Ann Light Cruise, Joy Willard Vaughn, Jo Via Kapfer.
4th Row – Joe Bowman, Pete Foley, Dale Craig, John Witt, George Rakes, Stewart Roberson, Gary Dalton, Rick Cole, Ray Hairston, Vance Agee, Henry Hairston, Steve Hairston, James Hagwood, Clayton Kendrick, Joan Baliles Achord, Buren Kendrick.