The Patrick County Music Association (PCMA) is set to kick off its Tri-Fest of shows for the year on Saturday, October 21 with the Opry Show.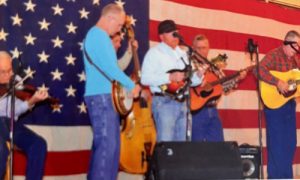 Sponsored by The Landmark Center and Blue Ridge Therapy Connection, doors open at 5 p.m. and the music will start at 6 p.m.
PCMA President Denny Alley said The Country Boys, the longest running Patrick County band in history, will serve as the event's headlining act.
"They've been together 40-something years, I don't know how many, but a long time," he said.
Alley said The Country Boys will play bluegrass, country, and gospel music.
"The usual 'around here' music," he said. 
Scarlet Norman, Lonesome Heart, River Ridge, Miller Hopkins, and Roger Handy will also take the stage.
Alley said he believes the Landmark Center and Blue Ridge Therapy will offer blood pressure and health checks during the event.
The November 18 event will be the PCMA's Veteran Appreciation Show, with The Churchmen taking the stage. 
The Lonesome River Band and Nu-Blu will headline Sammy Shelor's Banjorama on December 9.
Admission is a $5 donation at the door. Lawn chairs are encouraged, and prizes will be awarded throughout the night. 
Concessions will be available for purchase from the Patrick County Shooting Education Team, with proceeds going to teach children in the area firearm safety.
For more information or to watch past music performances, visit Facebook.com/PatrickCountyMusicAssociation.