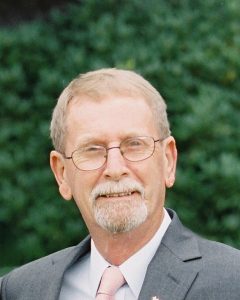 Clyde Leon Vaughn passed away in Lexington, KY on October 22, 2023. Leon was born in Patrick County, Virginia on September 18, 1945, to Moir Wesley and Sallie Ann Dollarhite Vaughn. In addition to his parents, he was preceded in death by sisters Vera Burnette, Ellen Handy, and Stella Gusler; brothers Willie, Cecil, Ray, Herman, and Cotton. He is survived by his wife of 54 years, Brenda Cox Vaughn; their two sons and daughters-in-law, Jonathan and Leslie Vaughn of Lexington, KY, Ryan and Charisse Vaughn of Dallas, TX; grandchildren; Henry, Jack, Stella and Wesley Vaughn, and his sister, Jane Lawson of Midlothian, VA.
At the age of 18, he served in the US Army where he completed a tour of duty in Vietnam as a member of an infantry mortar squad. Upon his discharge from the Army, Leon returned home to Stuart, where he met and married Brenda in July of 1969. Leon obtained his college degree upon graduating from the McIntire School of Commerce at the University of Virginia. He devoted much of his professional career as a co-owner of an automotive parts and supply company and later as an accountant for the U.S. Forest Service.
Leon lived admirably, often taking the road less traveled as a result of his strong moral convictions. He served his community as a member of the Stuart Rotary Club, a volunteer youth sports coach and by providing "acts of service" to many others. He enjoyed golf, gardening, trips to Topsail Island, NC, seeing the United States with Brenda and his closest friends, and the University of Virginia athletics. He was affectionally known by many as "The Hoo" due to his affinity for his alma mater. Leon fiercely loved his family and enjoyed any time he had with his grandchildren. Perhaps most importantly, Leon leaves behind a legacy of faith in Christ for his family and others to follow.
Family and friends are invited to a memorial service to be held at Grace Baptist Church in Stuart, VA on Saturday, November 4, 2023, at 1 PM, with reception to follow. In lieu of flowers, memorial contributions are suggested for Grace Baptist Church, c/o Mark Elkins at PO Box 1108, Stuart, VA 24171 or the Arthritis Foundation. Online condolences may be sent by visiting www.moodyfuneralservices.com.