Patrick County Sheriff's Capt. Rob Coleman was promoted to Chief Deputy on August 1, according to Patrick County Sheriff Dan Smith. With the promotion, Coleman is considered second in command, and now holds the rank of Major.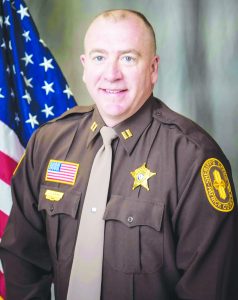 Coleman started his law enforcement career in 1999 as a police officer with the Martinsville Police Department (MPD). Coleman was a member of the MPD special weapons and tactics team and became a certified firearms instructor. In 2001, he successfully completed the prestigious Whitefeather Law Enforcement Marksman training program founded by legendary Marine Corps sniper Carlos Hathcock. He won numerous MADD (Mothers against Drunk Driving) awards and was continuously among driving under the influence (DUI) and criminal arrest leaders in the department.
When Smith took office in 2008, Coleman came to the Patrick County Sheriff's Office. He has supervised the patrol division and has served as commander of the sheriff's office tactical response team. 
"Rob has been with me his entire career, I am grateful that he made the decision to come with me 16 years ago, he is a born leader," Smith said.
He added that Coleman is respected by his peers because, like his predecessor retired Major Garry Brown, "he works."
Coleman graduated from Bassett High School in 1994 and from Radford University in 1998. 
Coleman and his wife, Lora, have one son, Clay.