Grassroots Grants, the newest initiative of One Family Productions, announced its inaugural award recipient, Vincent's Legacy. The awarding of these funds represents an expansion of OFP's mission to include direct investment in and financial support of education, creative placemaking, art, and culture in the community.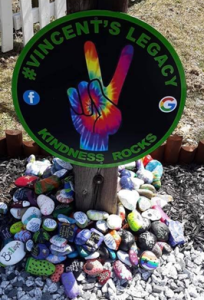 Vincent's Legacy is a nonprofit organization from Mount Airy, N.C., honoring the life and legacy of Vincent Puckett by spreading kindness and ensuring parents and children know the available resources when dealing with mental illness and bullying. Vincent's parents Roxane and Cary started the organization as a way to help educate others on the effects of bullying and prevent bullying-related suicide. One special program they created is called "Kindness Rocks!" "Kindness Rocks" are more than just rocks; they're little bits of kindness and love that travel the world. Vincent's Legacy takes pride in keeping its communities stocked with these little treasures. Whether it's with Kindness Rock Gardens at local schools, parks or simply hiding a rock around town, they make sure there is always a Kindness Rock around. According to the grant submission, Vincent's Legacy plans to spread the Kindness Rocks project to Patrick County by creating a local Kindness Rock Garden in the Patrick Springs community. Rock Gardens serve to brighten someone's day and to allow that kindness to be paid forward. Take a rock, give a rock or leave a rock.
One Family Productions opened applications for the first award cycle of Grassroots Grants in March and was able to review five project outlines from various community members in early June. Using the vision and mission of Grassroots Grants as guidelines for review, one impact-oriented project was awarded funding in a total of $1,000. Grassroots Grants is funded by donations from the community, annual allocations from One Family Productions' operating funds, and fundraising efforts at OFP music events, such as First Friday Summer Jam Series and Front Porch Fest.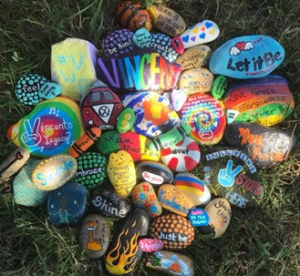 OFP Outreach committee member Kristin Hylton said, "Every application we received was worth careful consideration. All the applicants had innovative ideas, and the review committee had to be very specific in adhering to the goals of Grassroots Grants when deciding which projects to fund at this time. In alignment with our goals, we will offer advice to our grantees as well as the other applicants to help support their projects and connect them with resources in our community."
Grassroots Grants will continue to accept proposals on a rolling basis and award microgrants to innovative people and organizations within the community that present fresh, creative, and impactful project plans. More information on Grassroots Grants and the full application are available on the OFP website. www.onefamilyproductions.org/grassroots-grants/.