The Patrick County Planning Commission approved an amendment related to the Land Use section of the county's Comprehensive Plan at its March 21 meeting.
The amendment now will be submitted to the Board of Supervisors for consideration.
County Attorney Mark Popovich said that while the amendment would help with future solar companies wanting to locate in the county, it would not impact projects already permitted, such as the project on which a Virginia Department of Environmental Quality (DEQ) Small Renewable Energy Projects Local Governing Body Certification Form was signed by former county administrator Geri Hazelwood on Oct. 21, 2021.
"That bird (project) has flown. You don't have any more say on that," Popovich said. "However, the same solar company purchased adjacent property, and now is coming to us to see if we would sign off on those certifications."
That, he said, was the reason prompting the Planning Commission to adopt a solar zoning ordinance.  
"Let's not worry about whether or not it's legally enforceable, but let's just put a stopgap in, and we'll go back and fix it later because you all have already gone down this path pretty far," Popovich said. "I just took a legal calculated risk that if we just adopt the ordinance, we'll at least put the brakes on whatever they're doing." 
The commission heard concerns from residents and fielded a number of questions, including some questioning Hazelwood's authority to sign the certification form without knowledge or consent from other county officials.
Denise Stirewalt, of the Peters Creek District, speculated similar forms are an everyday occurrence in localities for businesses that require DEQ approval.
"All it is is an information certification form that Mrs. Hazelwood signed that says, 'we have no zoning in Patrick County and we have no land use ordinances in the county regarding solar,'" Stirewalt said, adding that the DEQ sent the form on behalf of Fairy Stone Solar, LLC.
Hazelwood "signed an information certification piece. No agreement, no approval, no contract, no anything. Just certified with DEQ, and that gave DEQ the option to say yes, we approve you moving forward with the project in Patrick County, but you have to go through the locality," Stirewalt said.
"So, no permits, no agreements, no approval, no nothing has been signed by anybody in Patrick County on the Planning Commission or the county administration level, period," she said.
Popovich said the underlying issue is the form was signed before the locality had measures in place to govern solar facilities. 
"The community really didn't have any position on solar facilities," he said. "So, it's a fine line in my mind, from a legal perspective, if the county will have any say in that original proposal." 
Popovich said his assumption is that Fairy Stone Solar has a reasonable intent to keep the community happy. 
Regardless, "because that certification was signed off on previously, remember there were two parcels of land, that first parcel of land that was signed off on …, effectively, the county's already given its nod. It basically said, 'we don't have any rules, so we're out of it,'" he said.
Now, the solar company has an adjacent land parcel that it wants to add to the initial certification form/project, Popovich said.
"They may run into a problem if they want to make it all part of the same project. To try and attach it to this first parcel may open them up to having to comply with our new rules," he said, adding the situation really depends on how Fairy Stone Solar wants to move forward.
Other speakers included Ed Pool, of Franklin County, who said he's trying to move to the county and believes natural water is the most valuable resource.
"I think you should protect that at all costs with whatever legislation or laws are required to protect that water," he said.
Pool said he's been involved in four federal litigations against large companies. 
"You don't want to go there, you're right, but sometimes you have to," he said.
Pool said his issue with solar is the decommissioning and disposal of the panels used. He noted Washington state is the only place in the United States with disposal regulations.
"Only the European Union (EU) makes a manufacturer of solar cells pay in advance for the disposal of those units when they complete a lifecycle. There are 20 to 30 years in a lifecycle, and I'd argue that its hazardous waste," he said.
According to the Harvard Business Review, Pool said it costs an estimated $20 to $30 to recycle one panel. Sending the same panel to the landfill would cost $1 to $2.
"We've got lead and cadmium in those things," Pool said of chemicals that could lead to health concerns. The chemicals, he added, are "going to leech into the groundwater out of the landfill. If you have any questions about how nasty the EPA (Environmental Protection Agency) can be, look at the crap going on in Ohio. They're seizing land, your land, your house." 
Pool said he believes a legislation governing solar panel disposal will be in place in 20 to 30 years, but "there's nothing I see in the provision right now that takes that into account. The only way to do it on the front side is through bonds. 
"You come up with the calculations based on Washington state or the EU, somebody that's really regulating this," determine disposal costs, and require interested companies to agree to a bond in advance, he said. 
"Furthermore, if you want to stay out of that litigation fight, you also have a personal bond on the executive officers of the corporation … it goes into their will, into their estate. Then you'll know how serious they are, how good that company is, and how dedicated they are to you," he said.
Based on a World Economic Forum report from Sept. 2022, more than 80 percent of solar panels are manufactured in China, Lynne Bogle said. In addition to detracting from the natural beauty of the area, she also expressed concerns about the environmental impacts of solar panels.
"Prior to installation, the land must be cleared and leveled," she said. "Often, vegetation is cleared chemically, which can have a profound impact on our water. As we've seen with the 58 constructions, animals small and large have been displaced." 
Based on the type of panel, toxic chemicals are leached over time, among them lead, cadmium, silver, and arsenic, which could further impact the water supply, especially as so many residents have wells.
"Lastly, at the end of their cycles, panels become toxic waste as there is currently no safe means of disposal or recycle," she said.
Bogle said batteries are used to store the power, and potentially more above-ground wire to transfer power. 
She also asked if there are any safeguards to ensure the county isn't responsible for panel cleanup if the company goes bankrupt.
"Finally, what's in it for us? Has there been a cost study analysis to allowing this, and even more importantly, has there been a risk-benefit analysis? There are many things to consider," she said.
Malcolm Roach said he's read the ordinance several times and believes the section stating fencing should be 6 feet high and topped with barbed wire should be changed.
"That's ugly as sin. That's the type of fence you put around a detention center, no one wants to live next to that," he said.
Roach believes solar farms should not be allowed in a flood plain because "the accident rate is just too high. The toxins and the chemicals from the panels will leach down into the wetlands and get into our water," he said.
He is also concerned about the county's stormwater and has been told that all of the water in Patrick County is generated from sources inside the county.
"We also have a responsibility to the people downstream who need this water. I think there should be a retention pond." The ground should be raised so the drain water and rainwater go into a retention pond. "The retention pond water should be cleaned before it's put back into our groundwater," he said, adding an independent company should come and check the water periodically and with no advance notice.
At the end of the project, Roach said solar companies should be required to not only remove all solar panels but also be responsible for stripping out the soil 8-10 feet down and returning it back to its original quality.
Jamie Clark said the current solar ordinance makes reference to the distance between one facility and another.
"It says respective to, it doesn't say distance. Well, the county has a cell tower ordinance and there is a minimum distance that must be between cell sites. I think the county needs to look into adding language in there to put minimum distance between these solar projects," he said.
Clark said the three potential sites are all within a 5-miles radius of one another, and noted that affected residents should be notified.
"I think that the county needs to require the company when they say they're going to do something like this, to notify – at least by certified letter, the local affected landowners at least within a half-mile radius of it," he said.
Clark said he's also concerned with the enforcement of county ordinances, especially as the county's mobile park ordinance is not enforced. 
He also believes the county needs some type of zoning ordinance for the whole county.
"I'm not saying, 'you can't do this here, you can't do that.' At least make residential versus commercial. I'm not talking about these people that have home-based businesses, but at least put some sort of zoning ordinance in effect in this county so we can potentially keep these projects out in the future if we want to," he said.
Ricky Fulcher, a former supervisor, said the fact that a document was signed, regardless of whether it was legitimate, has the potential to affect residents' quality of life and that no one knew anything about it bothers him.
"No supervisors were contacted, the planning commission wasn't contacted, and the EDA (Economic Development Authority) wasn't contacted. Nobody was contacted. That is absurd," he said.
Fulcher encouraged the board of supervisors to address the situation and create a zoning ordinance.
"When I tried to do this, you'd have thought I shot somebody's best dog. But here's what you got. This is what (a lack of zoning) brings you," he said.
Fulcher said the county could do residential, retail, and commercial zones. Residents/businesses can ask for the property to be rezoned as needed, he said. 
Shannon D'Albero said the home she and her husband purchased in June 2021 is adjacent to the proposed land for the solar farm on Commerce Street.
"The complete investment of our property and the renovations is still ongoing for our property. My husband and I have invested well over half a million in our home. Also, we purchased our home with the intention of purchasing the surrounding lots in the future. This was supposed to be our forever home," she said.
D'Albero said it was troubling to find out that Hazelwood had signed a document that could possibly allow a solar farm to be located right next to her property.
"It was even more troubling to learn that this document was signed within a few months of us purchasing our home," she said, adding the property she purchased was previously owned by a relative of Hazelwood.
If allowed, D'Albero said the solar farm will be within 100 feet of her well, and also would decrease the value of her home.
"We were bothered the idea that one person given a title by the county could sign one document that will allow a problematic company with a reputation in not adhering to regulations in multiple counties throughout Virginia to come to Patrick County and construct a large scale solar project without any consideration from the citizens of Patrick County, and especially those affected landowners," she said.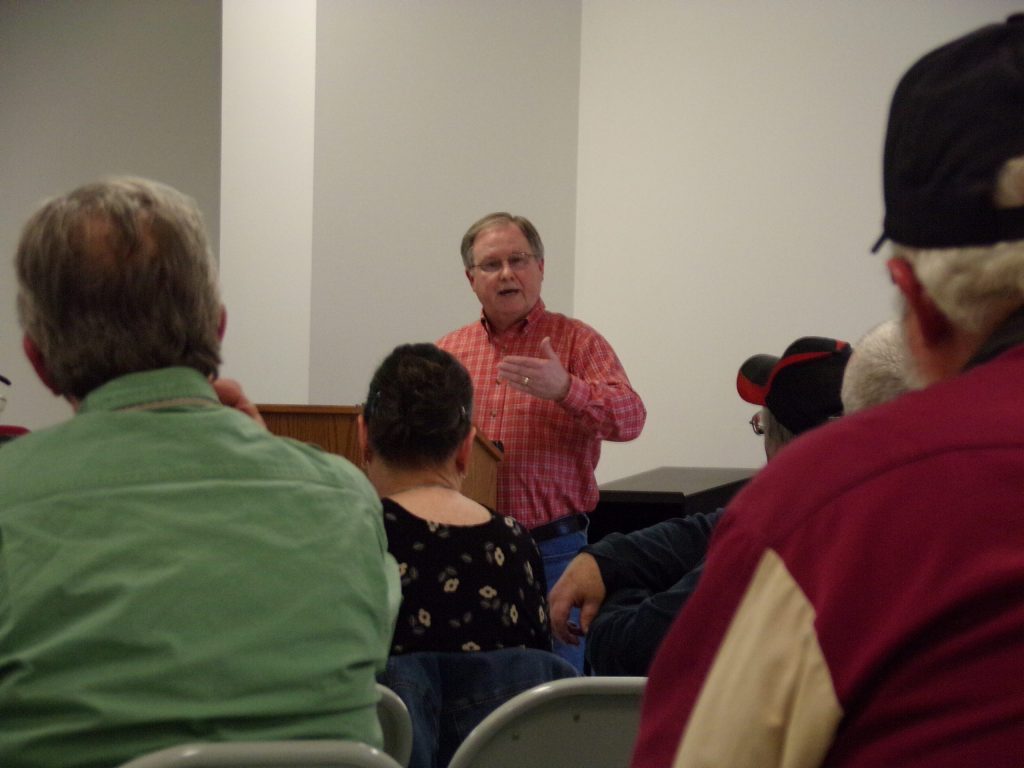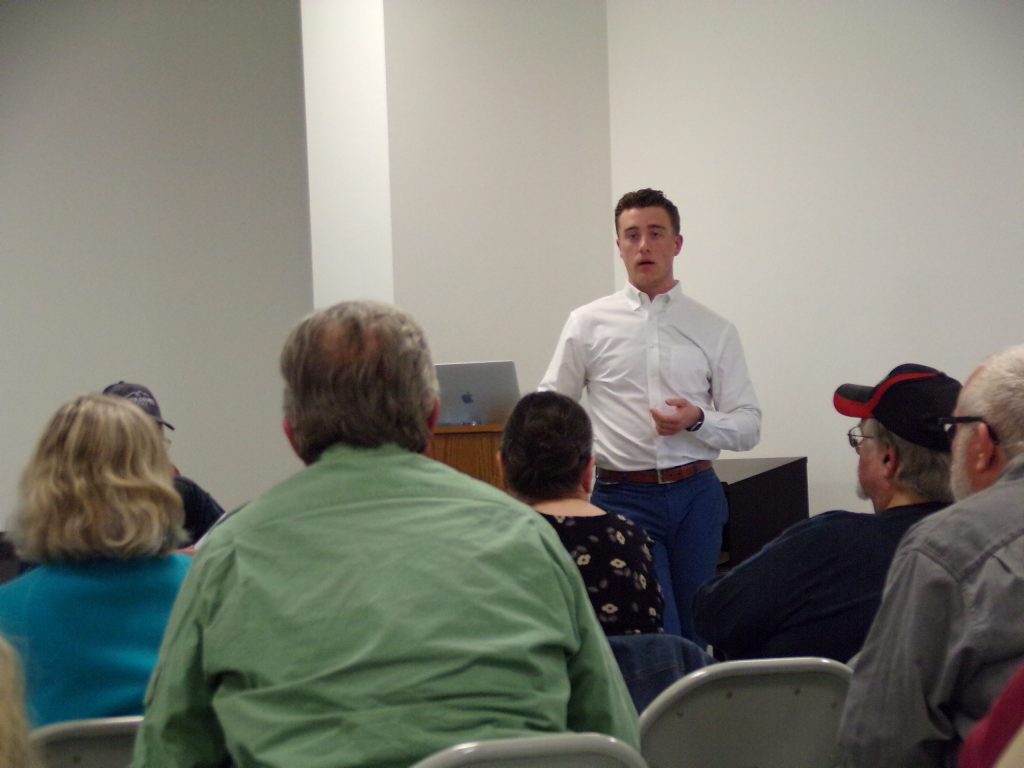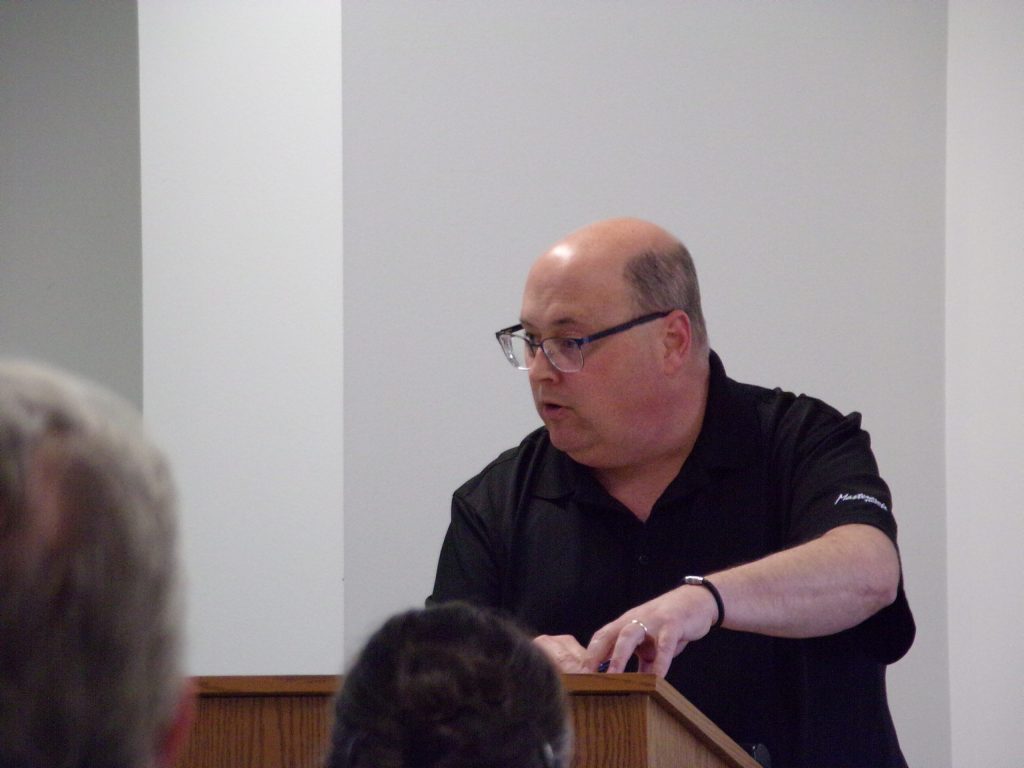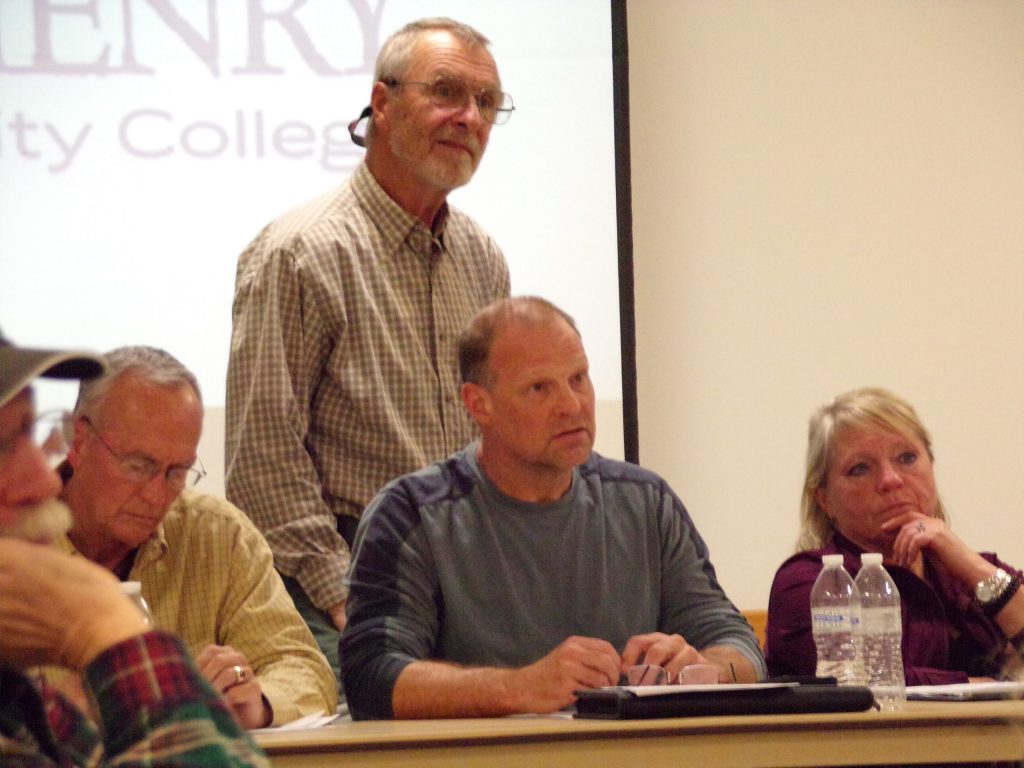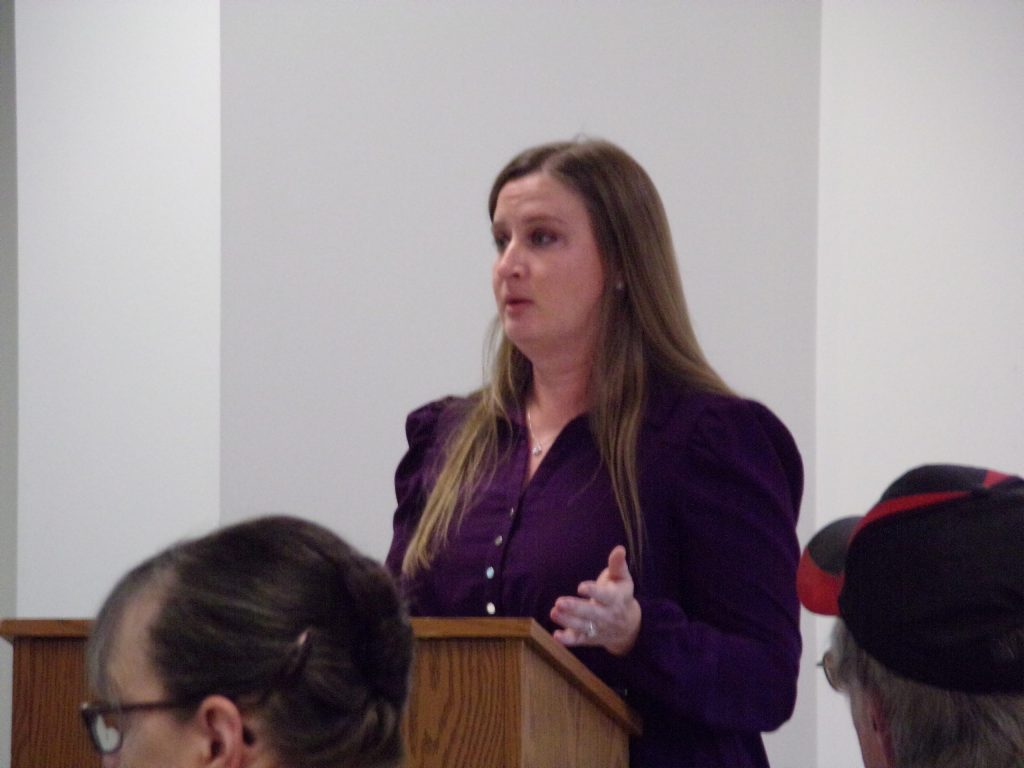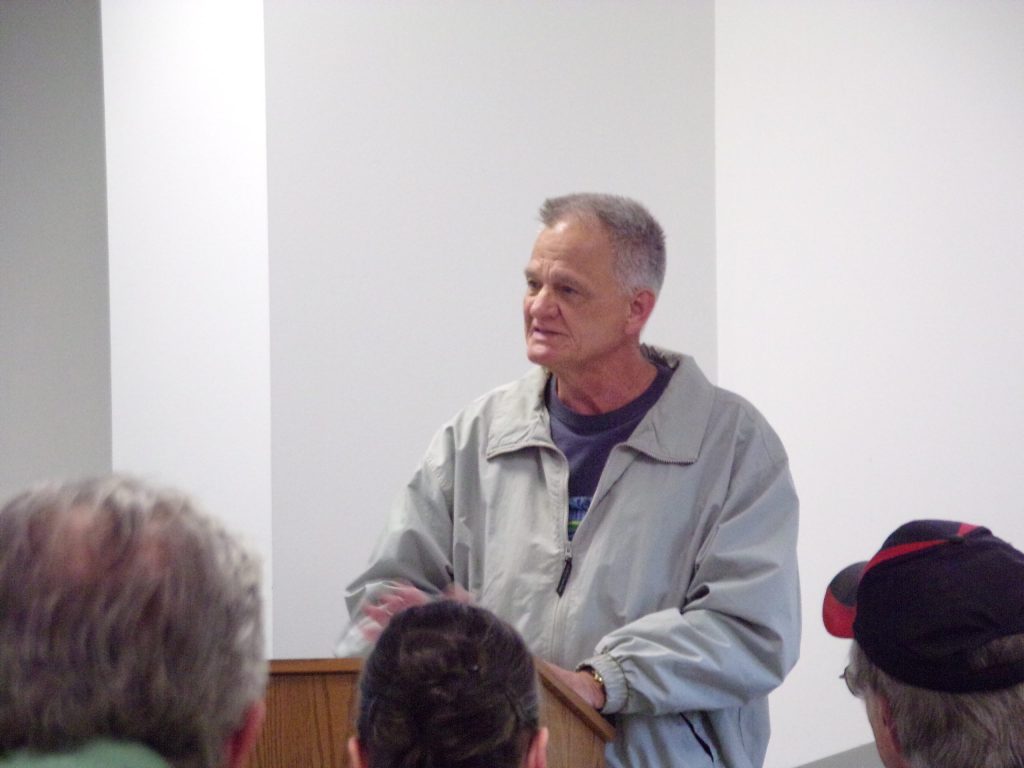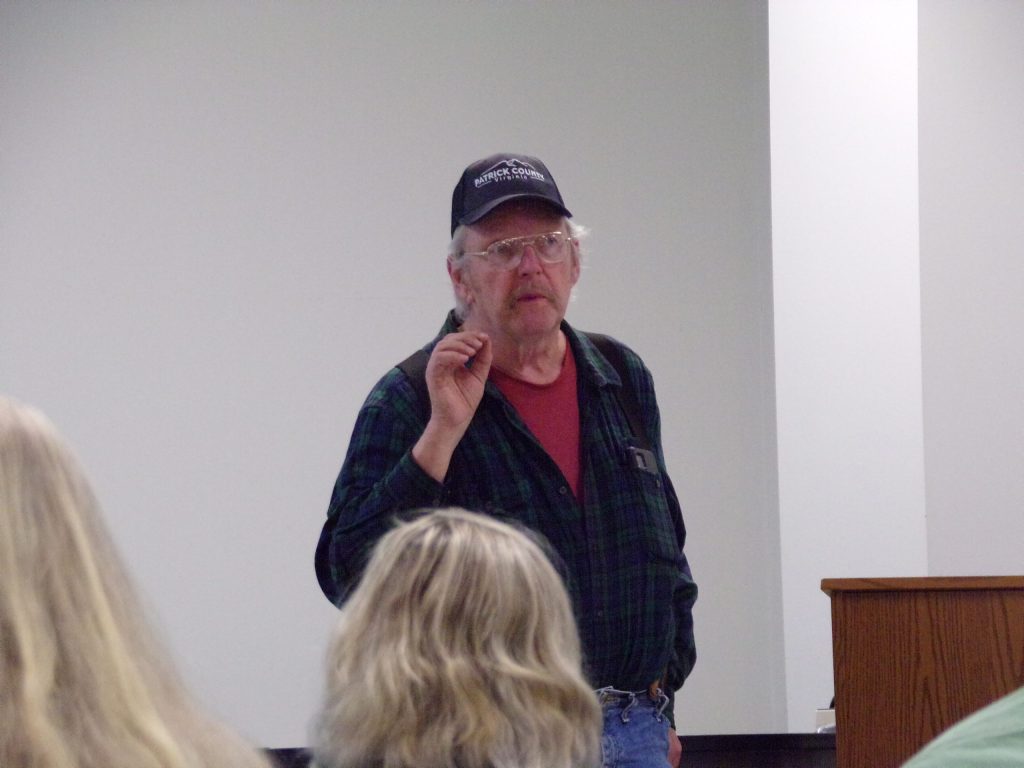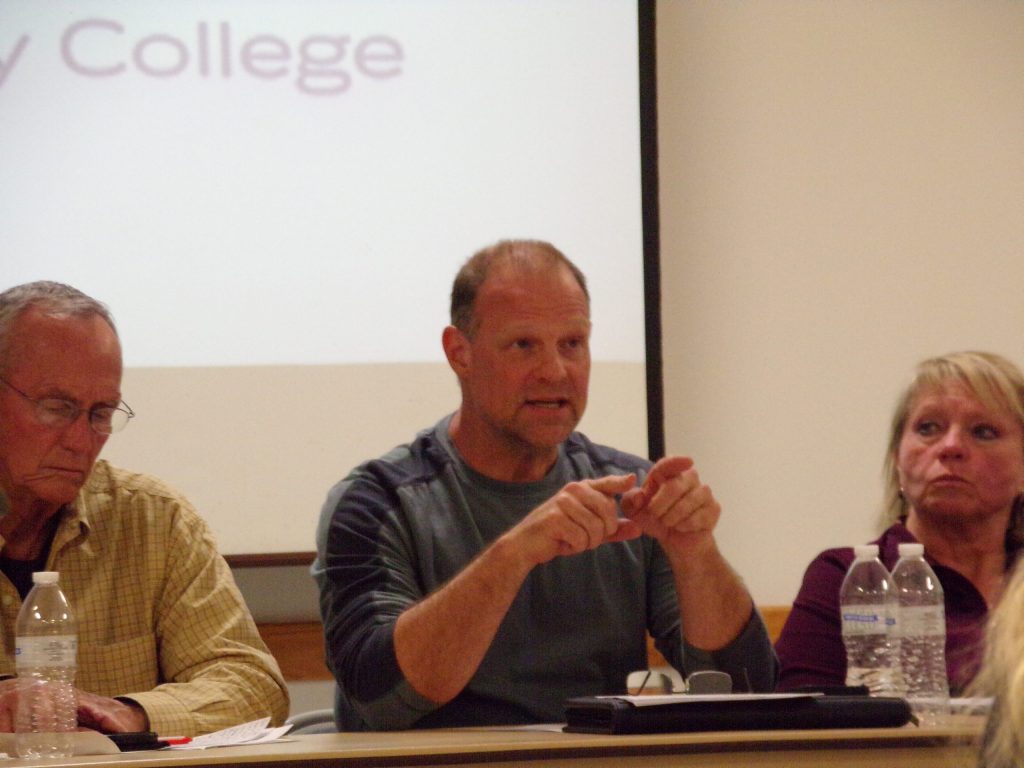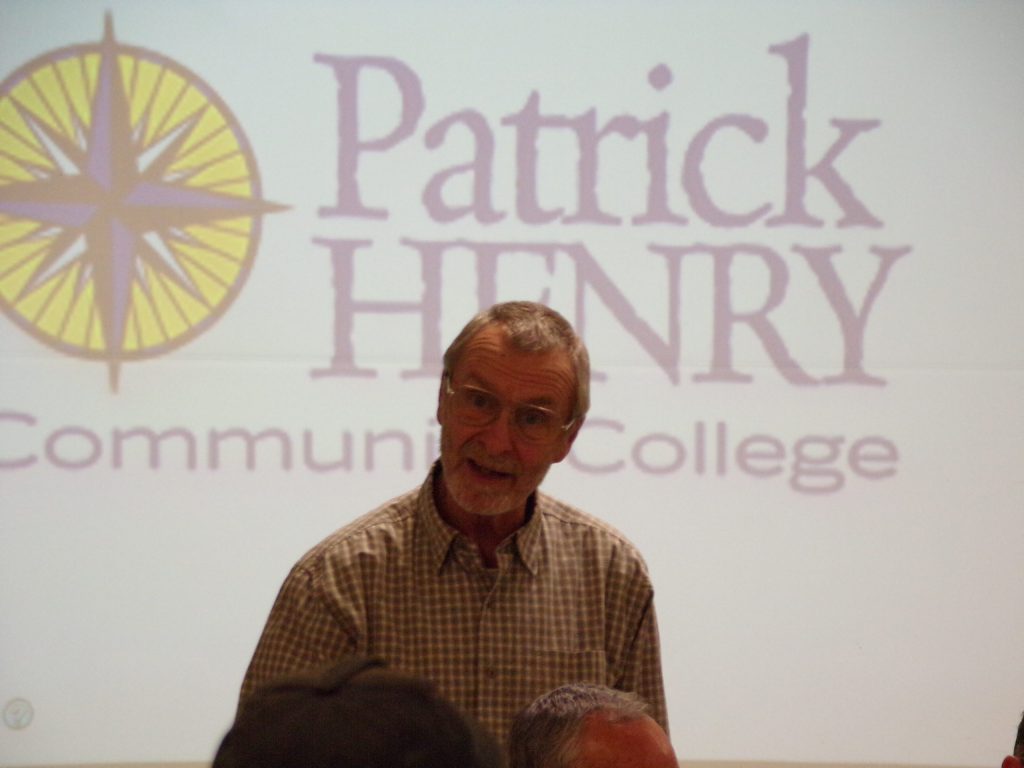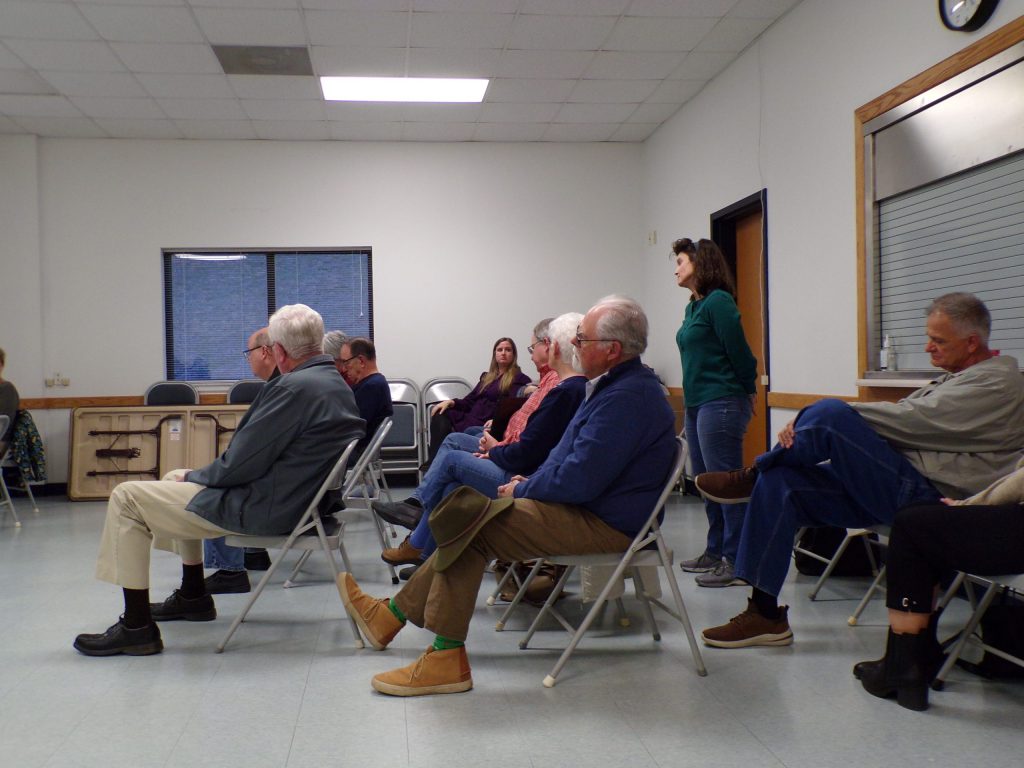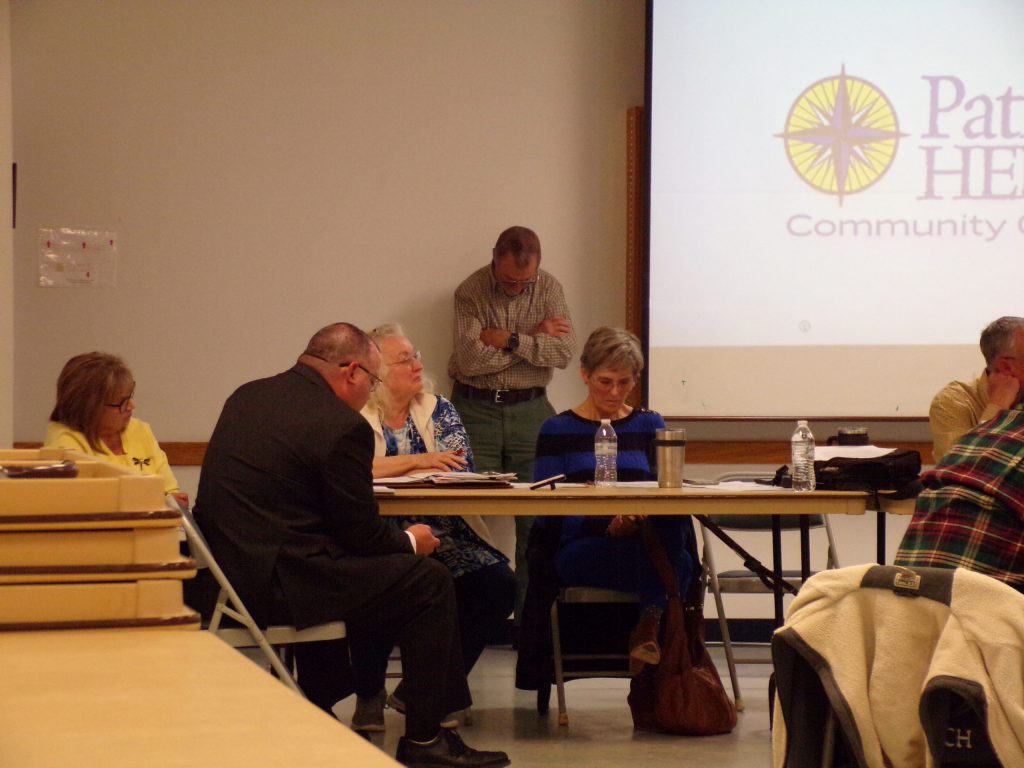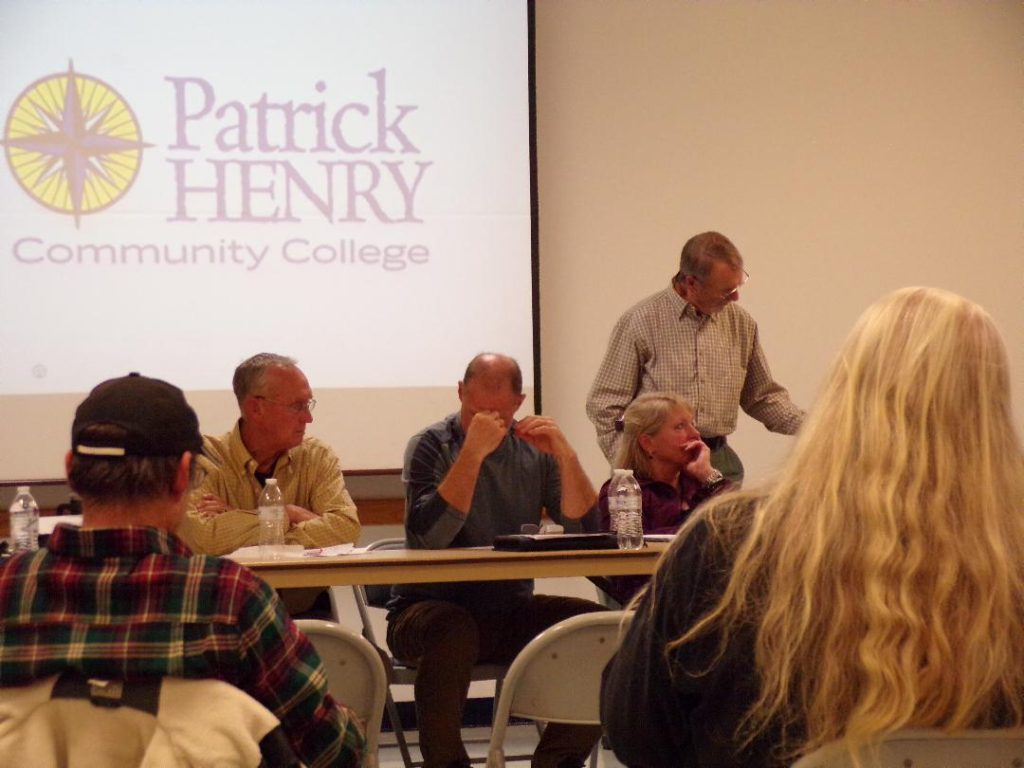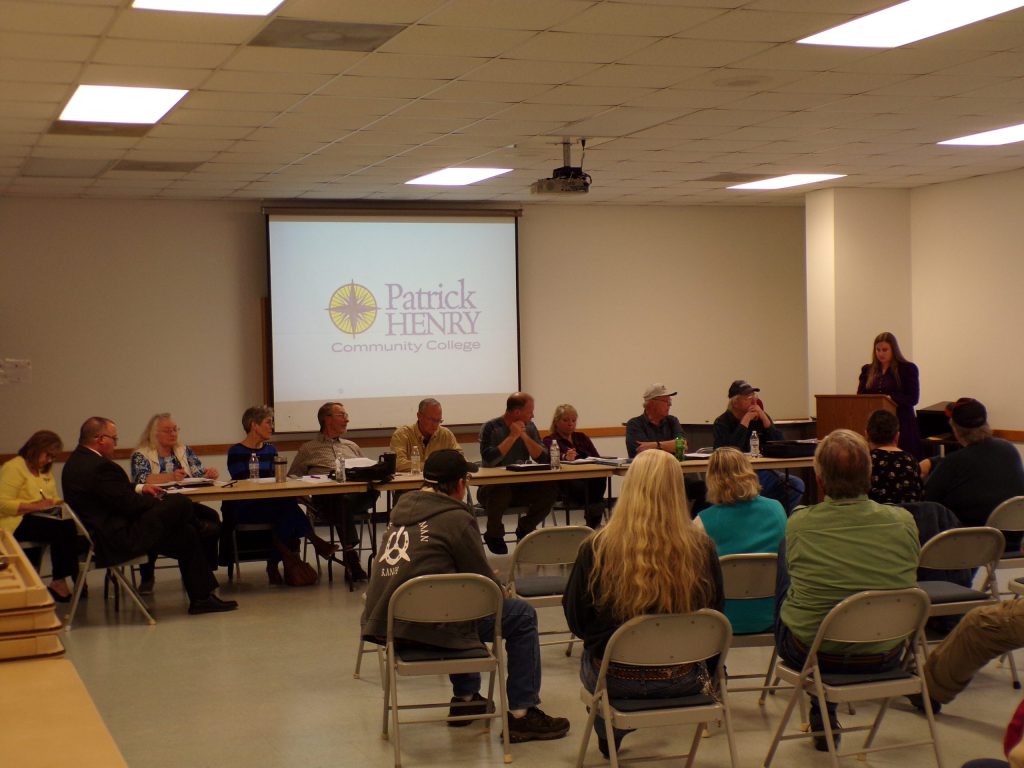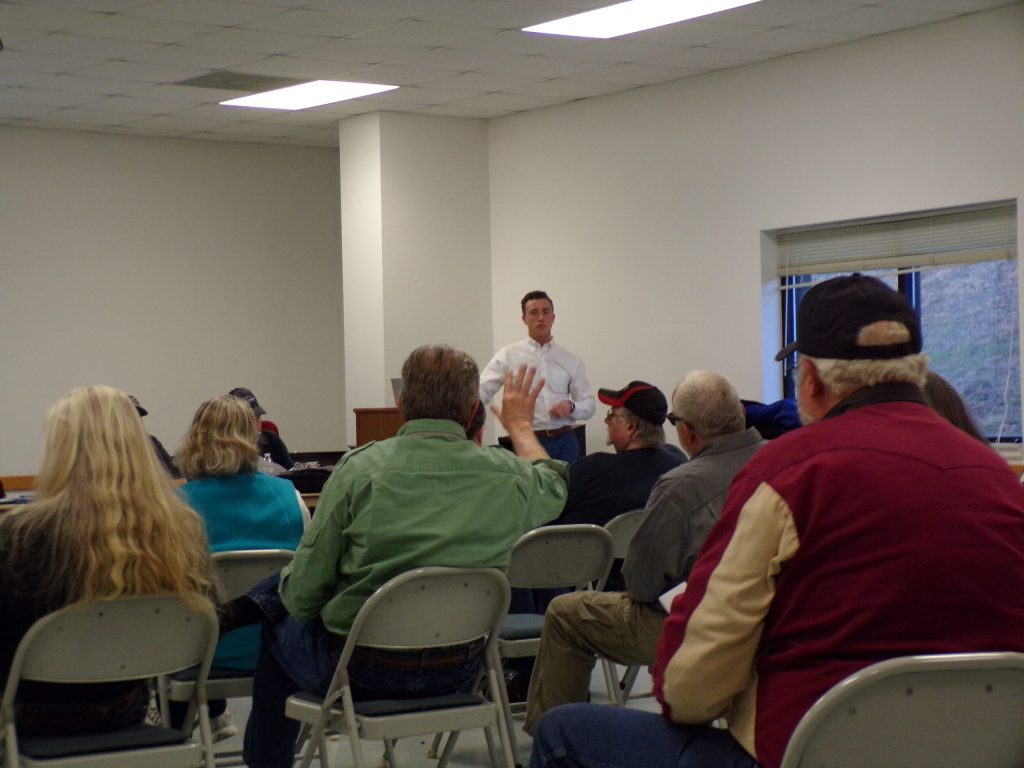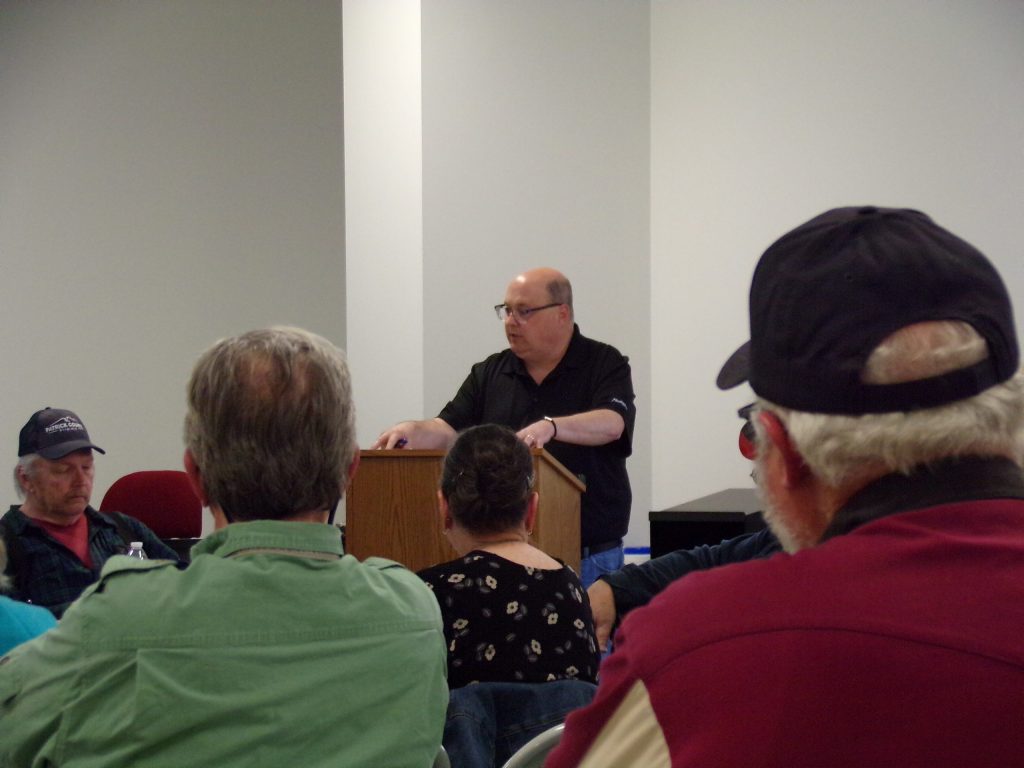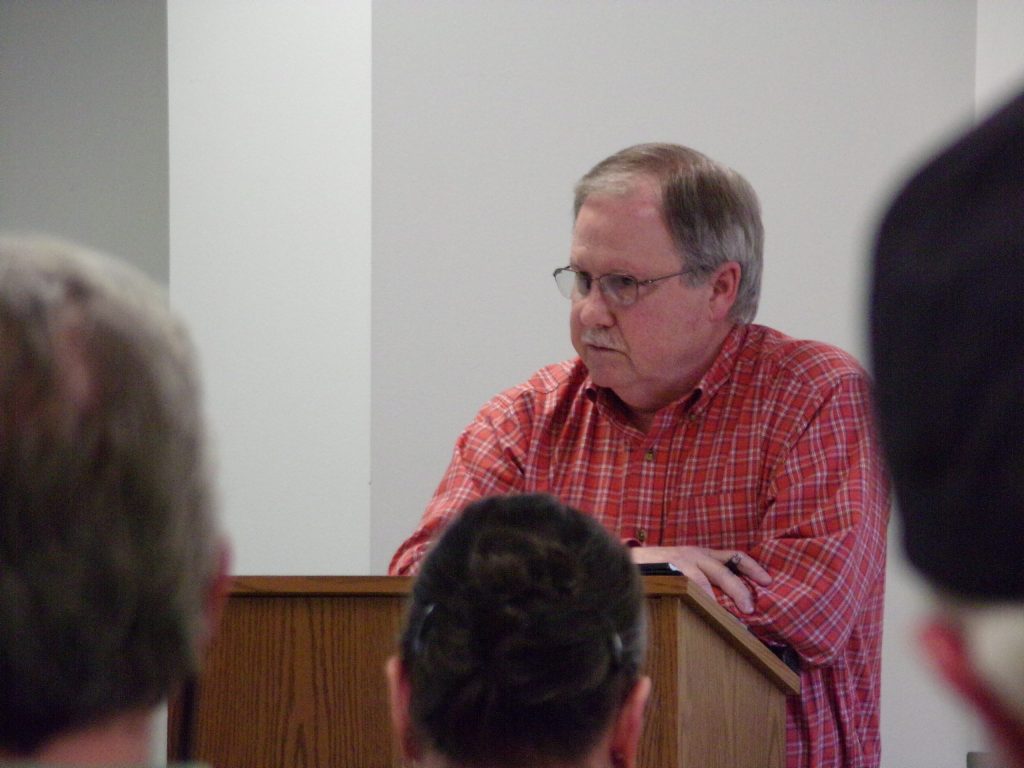 Mike Cooper, of the Peters Creek District, asked if hazard training would be required before solar panels are installed.
"The other thing that hasn't come up is electromagnetic radiation. It's not proven that it causes cancer, but there is that question: Can it if you live nearby," he said.
Cooper also wondered if the power lines would have to be moved and whether the road would have to be widened because of the panels. 
"People don't want them. It causes more traffic," he said.
Skyler Zunk, co-founder and CEO of Energy Right, a nonprofit company that is supported by donations from solar companies and others, discussed clean energy development.
"The whole goal of Energy Rights is to pursue clean energy the best way possible. If clean energy development is going to be coming to rural Virginia, these projects should be the best neighbors possible. We want to see them be invisible, we want them to be behind vegetative buffers and well-screened from neighbors, we want them to be quiet, and respectful of neighbors," he said.
Zunk said he became aware of Patrick County from Aaron Berryhill, the solar program manager for Virginia's DEQ, who worked with Patrick County Building Inspector Jason Brown during the solar ordinance drafting process.
Zunk was contacted by Planning Commission Chairman Larry Cowley, who invited him to attend the meeting. Zunk, who was often interrupted with questions from residents, also discussed taxes, benefits to the local economy, and disposal of solar panels.