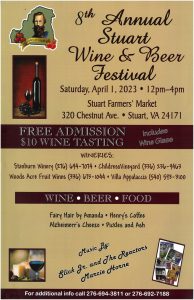 The Town of Stuart's 8th annual Wine & Beer Festival will be held on Saturday, April 1, at the Stuart Farmers' Market from 12-4 p.m.
Onsite local wineries will include Stanburn Winery, Childress Vineyards, Woods Acre Fruit Wines, and Villa Appalachia.
Billy Gammons, the town coordinator, said the event began as an addition to the town's other major festivals.
"We already had the Strawberry Festival and the Apple Dumpling Festival, and we just wanted something else to put in there with the rest of the festivals. Just something to attract more people to the town to see what we have," he said.
Gammons estimated 300 people attended last year's event.
There is no admission fee, but there will be a $10 tasting fee.
"You get a wine glass. This year, Thomas the Town Cat is going to be on the glasses," he said.
Wine bottles are available for purchase from various onsite vendors, according to Gammons.
Slick Jr. and the Reactors and Marie Horne will perform during the event.