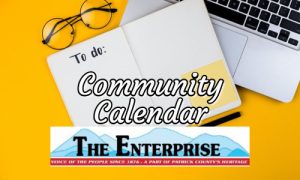 Meetings
Monday, July 10
The Patrick County Board of Supervisors will meet at 6 p.m. in the third-floor court room of the Patrick County Administration Office.
Thursday, July 13
The Patrick County School Board will meet at 5:30 p.m. in the School Board Office.
Wednesday, July 19
The Stuart Town Council will meet at 7 p.m. in the Town Office.
Events
Friday, June 30
Wayside Community Church will have a Music on the Lawn & Friday Night Fellowship at 6:30 p.m. Music will be by the bluegrass/gospel group Two Young Two Old. Weather permitting music will be outside, please bring a lawn chair. There will also be a cookout and cornhole. Wayside Community Church is located at 3520 Wayside Road, Stuart, just past WHEO radio station.
The final day to donate to the Peanut Butter and Jelly Drive, sponsored by the Patrick County Women's Leadership Committee to benefit the Patrick County Food Bank. Donations can be delivered to the Patrick County Farm Bureau office (across from Hardee's). 
Saturday, July 1
Fairy Stone State Park will present the Cron Squeezins' play at 8 p.m. at the Park Amphitheater.
Tuesday, July 4
Bluegrass and Old Time Music Competition, 10 a.m. to 4 p.m. at Vesta Community Center, 149 Community Drive, Vesta. Bring your own lawn chair. Competition categories include Banjo, Fiddle, Guitar, Mandolin, Bands, Vocals and Flat footing. Three levels – Children, Teen and Adult. Individual 1st, $15; 2nd, $10; 3rd, $5. Bands, 1st, $50; 2nd, $30, and 3rd, $20. All are welcome to compete. Must sign in by noon. Opening ceremony by Patrick County VFW Post 8467, followed by Quilts of Valor presentation by the Freedom Quilty Ladies, who will be presenting 24 Quilts of Valor to area veterans. Concessions will be available. The event will also include a Quilt Show by Mountain Top Quilters and games for youngsters. 
Friday, July 7
The Woolwine Methodist Church food truck will be at the Woolwine Volunteer Fire Department from 3-5 p.m.
Saturday, July 8
Fairy Stone State Park will have the Kitchen Pickers perform, Shelter 3 at 7 p.m.
Sunday, July 9
The Williams Family Reunion for the descendants of John Preston Williams will be at 12 p.m. at the Hughes Shelter on Trot Valley Road. Those attending should bring a covered dish.
Wednesday, July 12
The Patrick County Community Food Bank will hold a food distribution day at the Stuart site from 8:30-11 a.m. and from 5-6:30 p.m. There will be a morning distribution in Ararat from 8:30-11 a.m., and an evening distribution in Meadows of Dan from 5-6:30 p.m.
Thursday, July 13
The Patrick County Senior Citizens Group restarts its monthly meetings at 11 a.m. in the Hooker Building at Rotary Field in Stuart. Senior citizens from Patrick and neighboring counties are encouraged to join for fun, laughter, fellowship, musical entertainment, and delicious food. Philip Adams, a gospel music entertainer, will provide music. The meal menu will consist of pizza, tossed salad, desserts, and beverages. Bring a dessert to share. Call the Patrick County Parks and Recreation Department at (276) 694-3917 with questions.
Vacation Bible School
July 23-26
New Hope Church of the Brethren, 2007 New Hope Road, Stuart (Elamsville), presents Proclamation Safari, 6-8:15 p.m. nightly, with supper provided. Lots of fun learning about how Jesus is our rescuer, playing fun games and making crafts.
July 30-Aug. 2
Middle Cross Missionary Baptist Church, 59 Wayside Road, Stuart, 6 – 8:30 p.m. nightly. The theme is Keepers of the Kingdom.
Ongoing
Monday Market at Fairy Stone State Park, Mondays 5 – 7 p.m. at picnic shelters 3 & 4. Vendors accept cash only.
The Coffee Break Café hosts live music on Tuesdays from 9 to 11 a.m. Bring an instrument, or just come and listen. 
The Patrick County Library hosts Story Time with Ms. Sam at 10:30 a.m. on Tuesdays, with books, songs, finger plays, and more. For more information, call (276) 694-3352.
The Patrick County Library will hold the LEGO Club with Ms. Sam on Mondays from 4:30-5:30 p.m. This program is mainly intended for school age children. For more information, call the library at (276) 694-3352.
The Ararat Ruritan Club hosts virtual raffles on its Facebook page on the first of each month. Various items are raffled off at $10 or $20 per limited chance. There are 30-35 chances on each raffle. Prize values range from $150 to $400. For more information, go to Facebook.com/AraratRuritanClub or contact the club via email at AraratRuritanClub@gmial.com or Kevin Smith at 276-229-6493.
The Patrick County Quilters' Sit-N-Sew is held on Saturdays from 10:30 a.m. to 2:30 p.m. at Quilted Colors. For more information, call 276-694-3020 or email patrickcountyquilters@gmail.com.
The Stuart Elementary School Running Club will hit the pavements along the sidewalks in town on Mondays and Wednesdays from 3:30-4:30 p.m.
The Ararat Ruritan Club will hold Rook games every Monday night from 6:30-8 p.m.
Briarpatch Amateur Radio Club (BARC) and the Region Four Auxiliary Communication network (AUXCOMM) meetings are at 6:30 p.m. and 7:30 p.m., respectively, on the 4th Thursday of each month at the First Christian Church in Galax. Visit www.briarpatcharc.com for more information.