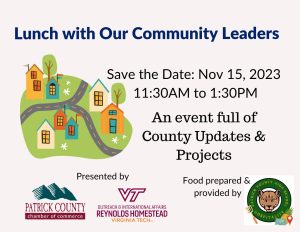 The Patrick County Chamber of Commerce and Reynolds Homestead are hosting this year's Lunch with Our Community Leaders event on November 15, 11:30 a.m. to 2 p.m. at the Hooker Building, located at 420 Woodland Drive in Stuart. Last year's Breakfast with Our Community Leaders was a huge success, and organizers are looking forward to another great informational session. 
This year, the event is a luncheon with a pasta bar. Food allergy alternatives will be offered, prepared and served by the Patrick County Hospitality Class. The class has been helping with the planning of the event as well. 
Confirmed speakers are Beth Simms, new County Administrator; Patrick Cooper, County EDA Director; James Houchins, County Tourism Director; Lisa-Price Hughes, Virginia Department of Transportation; Chad Sutton, Branch Civil; Rajiv Malhotra, General Manager at Primland; Angie Brown, Patrick & Henry Community College and Patrick County Education Foundation; Bryce Simmons, Stuart Town Manager; Trey Cox, PCPS CTE Director, and representatives from the West Piedmont Planning District. Other speakers will be added once confirmed. 
Tickets for the event are available online at the chamber's website, www.patrickchamber.com.