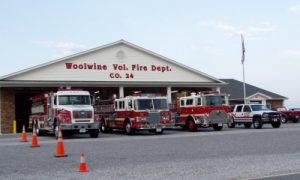 The Woolwine Volunteer Fire Department will celebrate 50 years of serving the community on Saturday, June 24. The celebration, which includes an Open House, parade, and other activities, is being held in conjunction with the Patrick County Patriots' benefit for one of its members.
"We've been in the business now for 50 years," Fire Chief Bennett Shuff said and noted that community support is responsible for the department's longevity.
"We really have a good community. It supports us really well," he said. 
The department began on April 20, 1973, "and we're just getting around to celebrating," the milestone anniversary, Shuff said. 
Other fire departments and rescue squads are invited to participate in the parade, with fire and emergency vehicles traveling to the Buffalo Ridge community and returning to the fire station in Woolwine around 12:30 p.m., when an AirCare 3 medical transport lands, Shuff said.
"We have a good group at the fire department, but we could always use more," Shuff said, and current volunteer firefighters will be on hand to answer questions or talk to anyone who may be interested in joining the department.
"We'll be around all day," he added.  
The Patriot group has several fundraisers planned to benefit Jessica Belcher. Belcher, a hairstylist who does not have health insurance, needs help with medical bills, after having serious health problems, according to previous reports.
A Motorcycle Ride and a Cruise-In are among the fundraising events, with live music and an auction scheduled for later in the day. 
Registration for the Motorcycle Benefit Ride begins at noon in the Orchard View Market parking lot on Virginia 8 North in Woolwine. All vehicles are welcome, and the registration fee is $20 per bike or vehicle. A 50/50 drawing will be held, and a trophy will be awarded.  
Kickstands go up at 1 p.m., with the ride concluding at the fire department. 
Text Jason Turner at (276) 692-7842 for more information.
The Cruise-In will be held from 2 to 6 p.m. It also will be at the Woolwine Volunteer Fire Department. An auction gets underway at 5 p.m., and a People's Choice trophy will be awarded, as well as 50/50 drawings and live performers that include Marci Horne, Jordan Morrison, and Mike Pendleton.
Door prizes will be awarded, and the auction includes a Bake Sale. 
Concessions such as hot dogs donated by Jesse Jones and barbeque donated by Boyd's Restaurant will be available for purchase and several vendors will be selling their wares. Set up is free. Call Shannon Wood at (276) 692-4435 for more information. 
If calls are received "even up to the night before," Wood said, "we'll definitely accommodate whatever we can." said Wood.
For more information, call Sammy Hughes, president of the group, at (276) 692-6224, Jamie Hall at (276) 340-8454, or any group member.