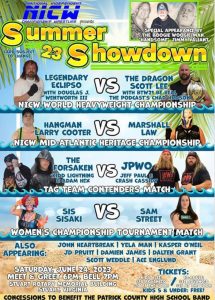 The National Independent Championship Wrestling (NICW) Summer Showdown 2023 is set for Saturday, June 24, at the Stuart Rotary Memorial Building in Stuart. A meet and greet starts at 6 p.m. The first bell rings at 7 p.m. 
Scott Rutter, of Rutter's Martial Arts, said at least six or seven matches are scheduled for the event, including the Hangman Larry Cooter vs. Marshall Law for the NICW Mid-Atlantic Heritage Championship, Sis Sisaki vs. Sam Street for the Women's Championship Tournament Match, and The Forsaken, Kidd Lighting and Adam Hex, vs. JPWO, Jeff Paul and Crash Cassidy, for the Tag Team Contenders Match.
The main event will be the NICW World Heavyweight Championship match between Legendary Eclipso with Douglas J. Wentworth III and The Dragon Scott Lee with BTW Be Real The Podcast's Chad Hudson.
John Heartbreak, Yela Man, Kasper O'Neil, JD Pruitt, Damien James, Dalten Grant, Scott Weddle, and Ace Englund will also appear during the show.
Rutter said one of the show's biggest draws is the scheduled appearance of World Wrestling Entertainment (WWE) Hall of Famer The Boogie Woogie Man "Handsome" Jimmy Valiant.
"He's been in wrestling for 50-60 years. He's coming to make an appearance, and sign autographs, and meet the fans, and stuff like that," he said.
Valiant will be at Uptown Stagecoach from 12-3 p.m. for the meet and greet.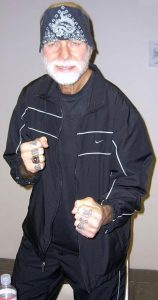 Valiant won the World Tag Team Championship with his kayfabe brother "Luscious" Johnny Valiant in 1974 and feuded regularly with Jerry "The King" Lawler while in the Memphis wrestling scene.
Valiant currently operates and trains wrestlers at Boogie's Wrestling Camp in Shawsville and wrestles under the American Championship Wrestling (ACW) Banner around the Roanoke area.
Noting that the NICW held a pro wrestling show on March 25 in honor of a local wrestler who passed away a couple of years ago, Rutter said, "Our goal is to continue to do shows in our area and to give something back to the community and allow the people to come watch something and be entertained and be able to provide family-friendly entertainment."
His goal is to hold a show every few months to help benefit something in the community. The proceeds from this event and the concession will benefit the Patrick County High School (PCHS) band.
Rutter said about 250 people attended the March show.
"So, we're really hoping that they'll continue to come out and support us," he said.
The show is sponsored by Rutter's Martial Arts, Boyce-Holland Veterinary Services, Impressive Prints & Designs, and National Exterminators. 
Advance tickets are $10 for children aged 6-12 and $12 for those over 13. Tickets bought at the door are $12 for children and $15 for adults. Children five and under can enter for free.
Advance tickets can be purchased at Rutters Martial Arts in Bassett, Stuart, and Floyd; Uptown Stagecoach; Lowes Foods; Little Caesars Pizza, and Boyce Holland Veterinary Clinic.
For more information, visit Facebook.com/NationalIndependentChampionshipWrestling.