The Patrick County Board of Supervisors and the Patrick County Economic Development Authority have a new Economic Development Director.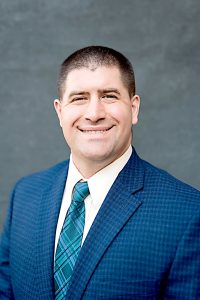 Patrick Cooper will start in that position on August 7, and be paid $66,000 annually. He will take the place of Sean Adkins, who resigned earlier this year. 
Cooper will be the point of contact for all economic development efforts in Patrick County, in cooperation with the Board of Supervisors and the EDA. Cooper will report to the County Administrator. 
Cooper currently works for the Virginia National Guard as a Supervisory Logistics Management Specialist out of its Richmond, VA office. In that role, he manages and integrates six programs and manages budgets of $2 million annually in federal funds for government programs. In previous roles with the National Guard, Cooper was a senior advisor and oversaw such diverse initiatives as emergency management, operations security, and anti-terrorism. 
Cooper has a bachelor's degree in criminal justice and political science from Norwich University and is working toward a master's degree in public administration at the American Military University. His ability to seek and manage grants on the federal level will be a huge asset to Patrick County's ongoing efforts to piece together funds for economic development initiatives. 
"I have experience in managing grants, seeking projects, and putting those two efforts together for a positive outcome," Cooper said. "I am thrilled to have this position and I look forward to working with all our partners and making Patrick County even better than it is now." 
While Cooper currently works in Richmond, he has Patrick County connections. His wife Brandi is from Patrick County and many family members live in the area, and the couple plan to relocate to the county.
"I'm not the only one excited about this opportunity," Cooper said. "Our entire family is excited. That's one of the reasons I sought the position – I know what Patrick County is and can be, and I'm ready to get to work."
EDA Chairman Bill Clark cited Cooper's military background as one of the things that stood out on his application. 
"With his organizational skills and critical-thinking skills, I believe Mr. Cooper will come up to speed quickly on what we need and what we want in Patrick County's economic development toolbox," Clark said. "I think we all are excited." 
Board of Supervisors Chairman Clayton Kendrick echoed Clark's words. 
"I believe Mr. Cooper will hit the ground running, and I'm glad he's on our team," Kendrick said.