A wreck at the intersection of U.S. 58 and Spring Road temporarily halted traffic on Monday, October 30.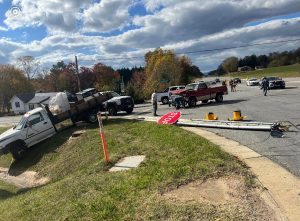 Clint Weidhaas, Captain of the Stuart Volunteer Fire Department, said the accident occurred between an older model pickup and a Ford F350 flatbed truck around 2:30 p.m.
They "struck each other at the intersection of Spring Road and 58. After the impact between both vehicles, the Ford F350 went off the road striking a utility pole holding up the VDOT (Virginia Department of Transportation) caution traffic signals, bringing them down (and) completely blocking 58," he said.
Weidhaas estimates the road was blocked for about 35 minutes. As of November 1, the caution signal was still down.
"There was a 67-year-old male patient out of the smaller pick up that was injured. Company 23 and Patrick County Station 8 removed the subject from the vehicle, and he was transported" to the emergency room in Mount Airy, "but he was in stable condition," Weidhaas said.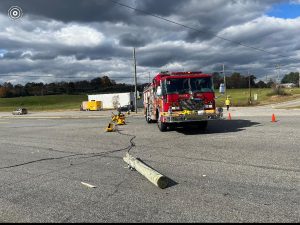 Patrick Springs Volunteer Fire Department responded with four personnel, Stuart Volunteer Fire Department responded with one engine and three personnel, and Station 8 had two personnel on scene. 
VDOT and the Patrick County Sheriff's Office helped provide traffic control following the accident.
"We were on scene for a good hour and a half. One lane had to be shut down for about an hour and a half, that was the right eastbound lane, but we got the rest of the road opened up after 35 minutes," Weidhaas said.
Crews from the fire department had to physically remove and drag the traffic signal devices out of the road.
"We actually had to physically drag wire and everything, it was a mess," he said. It took "a couple of minutes because they're pretty heavy, and it took three of us to drag the whole ensemble out of the roadway."
The cause of the accident is still under investigation.