The Patrick County Music Association (PCMA) will hold its Veteran Appreciation Day show on Saturday, November 11.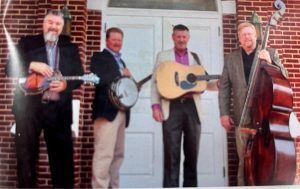 Sponsored by Pilot Mountain, Inc., the event will be held at the Stuart Rotary Building. Doors open at 5 p.m. and the music will start at 6 p.m.
PCMA President Denny Alley said The Churchmen will serve as the show's headline act.
"They're out of Henry County. Jay Adams is the banjo player, and he plays the guitar with them. He has another group," he said.
Alley said The Churchmen perform bluegrass and gospel music. The group has been recording and touring since 1989.
The Churchmen appeared on the "Gospel Music Showcase" with Guy Penrod on Daystar network.
Jordan T. Morrison & the Foot Hill Boys, New River Line, and None of the Above will also take the stage.
Alley said a couple of the groups' members are from Patrick County.
"The Morrison boy is from Woolwine. They're opening the show. The rest of them have local ties. No farther than Mount Airy," N.C., he said.
The December 9 show will be Sammy Shelor's Banjorama with the Lonesome River Band, and Nu-Blu will headline the year's final show. More than a dozen other players will take the stage throughout the night.
Sponsored by Hopkins Lumber and Patrick County Tourism, Alley said it will be "a free show for everybody, the biggest show of the year."
Alley added he estimates about 150 people attended the October 21 Opry Show.
Admission is a $5 donation at the door and veterans can enter for free. Lawn chairs are encouraged, and prizes will be awarded throughout the night. 
Concessions will be available for purchase from the Patrick County Shooting Education Team, with proceeds going to teach children in the area firearm safety.
For more information or to watch past music performances, visit Facebook.com/PatrickCountyMusicAssociation.