I hope you will indulge me as I write about my own family this week. Last week and next week are some very sad anniversaries for our family. October 31st was the third anniversary of the death of our beloved Ivalien and November 9th is the thirty-fifth anniversary of the accidental drownings of Ivalien's only child and grandchild, Ronald and Chris Belcher.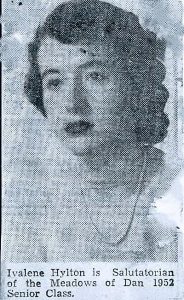 Dorothy Ivalien Hylton was born to Stowell Hylton and Gracie Hall Hylton on October 2, 1933, in Meadows of Dan; she was their only child. Ivalien attended the Mountain View school in her early school years. Miss Carrie Rangeley was her teacher there. As a young teen, Mountain View school closed and Ivalien went to Meadows of Dan High School where she graduated as salutatorian in 1952. 
Ivalien married Calvin Edgar Belcher in 1953 and their son, Ronald Steven Belcher was born in January of 1958. Ronald was Ivalien's only child and Stowell and Gracie's only grandchild. 
Ivalien worked so hard all her life, including driving off the mountain for twenty-four years to work on piece rates at Bassett-Walker Knitting in Stuart. If you have never worked on piece rates (being paid for each piece you produce), it is hard to explain how difficult that type of work is. All these local families that owned textile and furniture factories grew very wealthy on the hard work of women like Ivalien, but sadly, the wealth did not pass down to the workers. 
During the time that Ivalien raised her son alone and worked at the textile mill, she also ran calls for the rescue squad on the mountain and taught Sunday School at Mountain View Methodist Church. Ronald graduated from Patrick County High School in 1976 and shortly afterwards, Ivalien started writing her weekly column, Mountain Top Party Line, for the Stuart Enterprise. Ivalien would continue writing this column for the paper for nearly forty years; she was 86 years old when she stopped writing. 
Ronald married Darlene Gardner in May of 1981 and their son; Christopher Ron was born in January of 1983. In the early 80's, Ivalien also started writing wonderful stories about the mountain people for the Mountain Laurel, a popular monthly newspaper started by Bob and Charlotte Heafner. Ivalien would eventually write forty-four stories for this paper, which are all available online. Ivalien was the inspiration for my column, Patrick Pioneers. She taught me how important it was to capture the stories of our people before all memory of them disappears.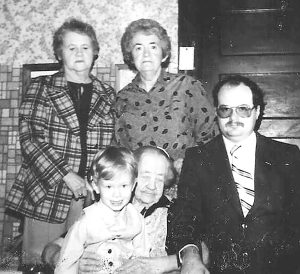 On November 9th, 1988, tragedy struck in the most horrible way anyone could imagine. Ronald and Chris were living downtown on the hill above the old service station that was run by Lloyd and Larry Joyce, and later by Harvey and Randy Pruitt. Thirty-year-old Ronald and five-year-old Chris always went for a daily walk when Chris got off the school bus, but this evening, they did not return. Ronald and Chris' bodies were found about 8 p.m. that night; they had both drowned in the Mayo River, above the old T.J. George Mill.  
After losing her only child and only grandchild in one instant, it was too difficult for Ivalien to continue working at the factory. She began another twenty-four-year stint, this time working for Ronnie Greene at Poor Farmer's Farms, first on the mountain and then later, at Ronnie's store in Critz. 
Ivalien married Claude Ellis Reynolds in 1992 and moved off the mountain to Patrick Springs. While working for Ronnie and later for Stanley Fain at All Seasons, she volunteered at the food ministry three days a week and the Jesus House one day per week. In fact, Ivalien volunteered at these service organizations until six weeks before her death. Ivalien received the Patrick Springs Ruritans Outstanding Citizenship Award in 2014. Ivalien walked this Earth 31,785 days and did not waste a single day. She devoted her entire life to the service of others. 
After dealing with such a horrible tragedy as losing your entire family, it would make the best of us bitter, angry, and resentful, but not Ivalien.  She faced each day with love, compassion, and hope. I think about her every day and miss her so much. 
Woody may be reached at rockcastlecreek1@gmail.com or 276-692-9626.