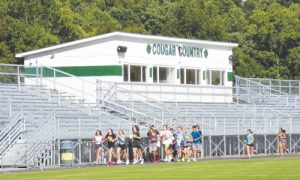 The beginning of team practice was not the start of the Patrick County Cross County Team's hard work.
"They've been running all summer," said Head Coach Eli Roberson, "and that way when we start practice, we're not having to get in shape."
Hopes are high for a successful season. 
Last year the girls' team won at districts while a member of the boys' team, Moi Cisneros, made it state competition. This season, the Cougars will make the move to the Three Rivers District, where Roberson says the "competition will be more difficult."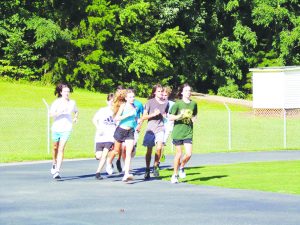 "Most of the schools in our new district are also in our region," said Roberson, so we're "going to be running against the same teams that we will run against at regionals."
For the boys, in addition to returning just one senior, Moi Cisneros, the team will have a dozen members, compared to eight last season. The added depth will help Roberson field a strong roster at meets.
A young team is going into the season on the girls' side. While there are no seniors on the roster, there are four returning from last year's district winning team.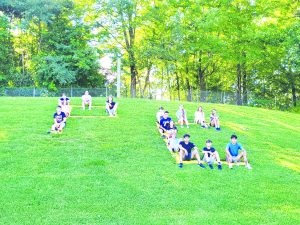 During practices, Roberson has the team working to get up to speed for the upcoming season. In some practices, they work on speed and others endurance and weight training.
"It's just building up to certain distances and bringing the speed along," said Roberson. "Some guys and girls are running 40 miles a week." 
The goal is to get them in shape for the 5K (3.2 miles) distance at meets, where the best five times on a team will count toward overall scoring.
The Cougars' season opens with a meet at Anglers Park in Danville on August 23 at 4 p.m., followed by a meet at the Smith River Complex in Axton at 4 p.m. on August 31.