There is plenty of excitement for the upcoming season on the Patrick County High School volleyball team. With eight of eleven players returning from last season, hopes are high for a successful season.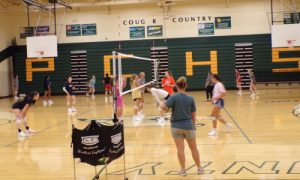 Some of the excitement centers on the school's move to the Three Rivers District, which includes two-time defending state champions, Glenvar.
"It's a difficult district," said head coach Heidi Moore. "It's going to be really competitive, but we're going to have to work, day in and day out to see where we can place in this district."
Besides Glenvar, the Cougars will join Alleghany, Carroll County, Floyd County, James River and Radford in the Three Rivers District.
The team is working hard getting ready for the new season, and at a recent practice, players were upbeat and energetic. While putting in the effort on every point during a scrimmage, the players were also clearly having fun, their love of the game showing in the smiles and comradery with their teammates.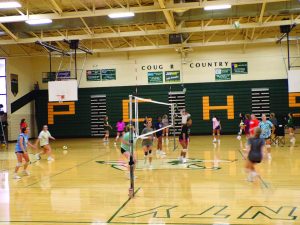 Seniors Marissa Bentley, Lauren Fulcher, Madi Keith, Bryley Pike and Audrey Young talked during a break about their confidence in how the team is coming together and the excitement of playing in the new district. They agreed that Three Rivers is going to offer some tough competition, but that is only making them work extra hard to be ready when the season starts.
The seniors also talked of their goals, among them proving themselves in the new district is near the top, along with helping the continuing growth of the program. Another goal they set for themselves is to beat the champs, Glenvar.
Coach Moore said, while Glenvar is the defending champ, other schools will also be tough. 
"Carroll is really good. Everyone in the district is going to be competitive, so we're going to have to play hard every night."
Team depth could be a strength for the Cougars this year. 
Coach Moore said she likes the effort many of her players have put in. "There are some that have really put some work in, lifting during the offseason, going to camps. I'm just waiting to see who's going to play, day and day out. I just want to see them all play and let us have some fun."
The Cougars open up their season at home against North Stokes on Monday, August 21, at 7 p.m.