Patrick County High School's football team has been hard at work under the blistering summer sun, getting ready for the upcoming season in hopes that all of the work is going to pay off for the Cougars in 2023.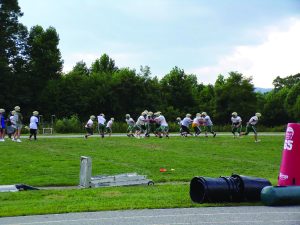 The Cougars will join Alleghany, Carroll, and Floyd counties as well as Glenvar, James River and Radford in the Three Rivers District, which, according to Head Coach David Morrison, will be challenging.
"We've been playing Carroll County. We've been playing Floyd for years now and they're always tough," said Morrison. "Football is a big deal in Three Rivers. It's huge. It's not like we're leaving a football conference for a non-football conference. These guys love their football and they're very strong throughout, bottom to top and it's a great football district to be in."
One benefit to joining the Three Rivers District is going up against similar sized schools.
"I think that's going to be one of the biggest things is the matchups, as far as personnel and as far as the numbers game. Every year it's a numbers game," said Morrison. "How many kids are you going to have out there versus what you see on the other sideline? I feel like you see the difference more in the second half of games.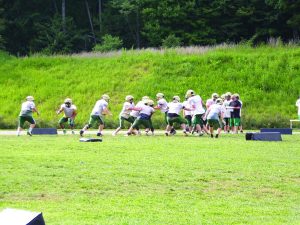 "We might have multiple guys going two ways and playing on special teams. And a lot of the teams that we've played in the past, they might not have to deal with that. They may be able to platoon and have guys going one way and some guys that don't play any special teams," Morrison said.
"You know you're playing schools that are more your size, you're going to see a lot more of the two-way players. You can see a lot more of the same situation at these other schools in Three Rivers," he added.
Coach Morrison and his coaching staff have been putting the team through their paces in drills and simulated plays during practices. During each, the staff are quick to call out great plays and effort, while using the not-so-great moments to teach and coach the players toward improvement.
From what Morrison has seen during practices, he feels one of the teams' strengths will be on the offensive line. He also likes the depth at several other positions.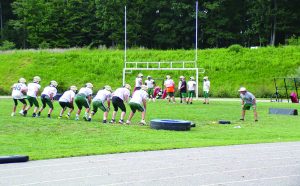 "We've got a very healthy quarterback competition going right now. We've got a few guys who all do some things really well. It's good to have that option where you have more than one guy at a position. We have some good depth at running back. All that competition always helps out. We always feel that competition breeds success, because you're always working to be just a little bit better than that next guy. The depth at multiple positions is really going to help out," he said.
Morrison also likes the effort being put in by his players. 
"We're pleased with the work these kids have put in, especially the juniors and seniors and some sophomores. They've been working really hard all summer and I think it's going to show on Friday nights this fall."
The Cougars will play a benefit game at home on August 18, at 7 p.m. against Eastern Montgomery before opening the regular season on August 25, at Martinsville. 
Their first regular season home game will be on September 1, against Bassett.