John Robert "Jack "Clifton was born in 1802 in the Price community of Rockingham County, North Carolina. Price is located just across the Virginia line in sight of the Commonwealth Crossing Industrial Park. Jack married Miss Alcey Grogan, also of Price, on the 30th of October 1823. The couple raised eleven children in the Price community, including sons William Bartlett "Bart" Clifton and Andrew Jackson Clifton.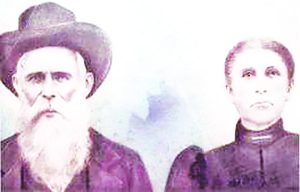 In addition to farming, Jack and Alcey Grogan decided to build a gristmill in Price to serve the community. The couple sent Bart and Andrew on a long journey to a stone quarry near Blacksburg, Virginia to acquire the millstones. I suspect the young men began their journey along what is now known as the Horsepasture-Price Road before going through Taylorsville (now Stuart) and the long climb up the mountain to Blacksburg. 
When people traveled two hundred years ago, they had to depend on the kindness of strangers for a place to rest and a bite to eat. Bart and Andrew stayed at a couple of farms near Vesta along their journey to and from the Blacksburg quarry. One of the families they stayed with was Chesley and Sallie DeHart Rakes where Bart met their beautiful daughter, Sarah.  Next week, we will find out about another farm the young men stayed where Andrew met a beautiful young lady too. 
Bart and Andrew returned to Price to tell their father that they had ordered the quartz millstones from Brushy Mountain Quarry in Blacksburg, and they would be delivered to North Carolina by horse and wagon. Incidentally, this is the same quarry where Ed Mabry acquired the millstones for Mabry Mill.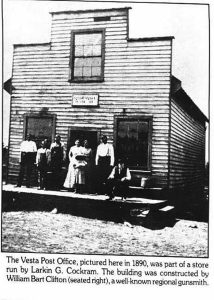 Bart returned to the mountain to court Miss Sarah Rakes, and they married on the 5th of January 1855. The couple remained on the mountain to begin their life together. Bart was already a skilled blacksmith and soon became widely known for the Kentucky long rifles that he made; he listed his occupation as gunsmith on the census in the last half of the 19th century. 
The following is a description of Bart's Kentucky long rifle written in 1963 by Mr. Fred Clifton, his great nephew:
"His rifles were not only famous for their accuracy, but for their workmanship and appearance. The butt plate, trigger guard, and inlaid ornaments were brass. He only used choice grade curly maple to stock most of his rifles. He initialed all his guns with W.B.C. cut in the barrel. The bit that cut the spiral grooves in the barrel consisted of a long wooden cylinder, approximately three inches in diameter, in which spiral grooves, half inch wide and half inch deep, are cut to correspond with the rifles in the barrel." 
Bart and his wife Sarah raised six children, the oldest one being Charles Buck Clifton who married first generation American, Susannah Nora O'Mara. Susannah's father, Daniel had stowed away on a ship from Ireland bound for New York and eventually settled in Meadows of Dan. Bart and Sarah's oldest daughter Seretha Delia married John Davis Lewis, their son Thomas Lincoln Clifton married Lucy Amanda Dalton, son John Stoneman Clifton married Ora DeHart, and son George Burrous Clifton married Permelia Anne DeHart. All these couples lived on the mountain and many of their descendants still live in Patrick County. Bart and Sarah's little daughter Lilly Ada passed away at the age of six. 
Bart Clifton was an excellent builder as shown by the above photo of the Vesta Post Office. Three years before this photo was taken, when Vesta was still known as Owensville, Professor G. W. Owens started the Blue Ridge Institute of Higher Learning. A new post office was needed for this booming community where teachers and students came from as far away as Texas. According to the History of Patrick County Schools written by Vergie Thompson Tilley, "George Owens led his faculty in teaching mathematics, history, English, surveying, music, and penmanship." 
Bart Clifton died from an asthma attack on November the 7th, 1913; he was 79 years old. Sarah lived to the age of 85, passing away on January 24th, 1926. 
Next week, we will learn more about Bart's brother, Andrew and the Patrick County mountain girl that he married. Thank you to the late Mr. Fred Clifton for writing down memories and anecdotes that mean so much to so many. 
Woody may be reached at rockcastlecreek1@gmail.com or (276) 692-9626.