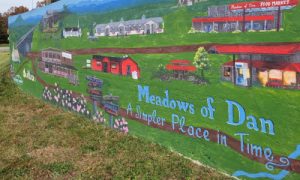 The Meadows of Dan Community Association is once again inviting you to the 19th annual Folk Fair on August 19, starting at 10 a.m. As with previous fairs, this year's event promises to be entertaining and fun for everyone. 
Shelby Puckett will discuss the historical Courthouse Tragedy at the Mayberry Church. Two showings
of the movie, "My Rock Castle Home," will be presented by the Blue Ridge Parkway Foundation. 
The fair includes musical performances by the Country Boys, an open mic, art, poem, and presentation, titled 'A Mountain Tribute,' an old-fashioned singing at Concord Church, and a gospel singing at Meadows of Dan Baptist Church by the gospel group, Right Turn.
As in years past, members of the Royall family will make preserves the old-fashioned way, and Stanburn Winery will be on hand, along with an exhibit by Frontier Farm and Home Center, local authors, and a prayer tent at Meadows of Dan Baptist Church. 
Outdoor entertainment includes a bouncy house for the youngsters and an axe-throwing adventure. Vendors of all sorts are making plans to attend the event, with jewelry, woodworking, shirts, and representatives from Thirty-One, Mary Kay, and Tupperware.
Bracky Rogers, author of "The Memoirs of Bracky Rogers: A Mayflower Descendant Growing Up in Mayberry," will attend from 10 a.m. until noon, along with coauthor Tom Perry, who published the book under Tom Perry's Laurel Hill Publishing LLC.
Local produce in season will be among the wares from vendors, and candidates seeking local county offices will be among the visitors. 
Lest we forget, the Meadows of Dan Elementary School will hold its annual Fish Fry, Shan's Concessions will be available, as well as Super dogs, hot dogs, and dessert, with LG Confections featuring their homemade desserts.
The fair is a free event, and a free shuttle service will be provided. Anyone needing additional information is asked to call Trinity Goad, president of the association, at (540) 230-7943. 
A schedule of events can also be found on Facebook.