Local volunteer fire departments responded to a call for a Vesta-area house fire on Friday, Aug. 4.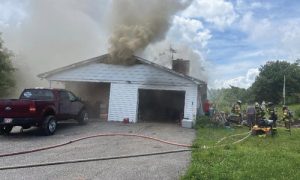 Clint Weidhaas, Assistant Chief of the Patrick Springs Volunteer Fire Department, said the call was first toned out to Meadows of Dan Volunteer Fire Department at 2:46 p.m.
"Meadows of Dan Fire Department was alerted of a house on JEB Stuart Highway with a significant amount of smoke coming from it there at Hilltop Restaurant," he said.
Weidhaas said the fire was brought under control within 25 minutes, and the damage was contained to half of the brick ranch-style home. 
"Half of it received fire damage, which was like two bedrooms, the hallway, a living room, and the attic space was damaged," he said.
No one was injured as everyone evacuated the house prior to the department's arrival. Fire crews remained on scene for three hours. 
Weidhaas believes a rough estimate of 7,000 gallons of water was used to extinguish the fire.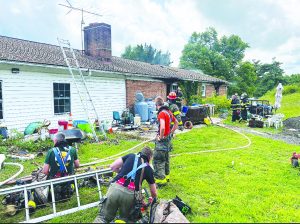 Meadows of Dan had three apparatus and eight personnel, Stuart Volunteer Fire Department had one apparatus and five personnel, Patrick Springs Volunteer Fire Department had four apparatus and nine personnel, and Woolwine Volunteer Fire Department had two apparatus and an unknown number of personnel.
"The warm temperature outside made it extra difficult for firefighters dealing with the fire. I mean here lately it's just been miserable," he said.
Weidhaas said this is the fifth structure fire in the county in less than two and a half months, "which has kept the local fire departments busier for this time of year."