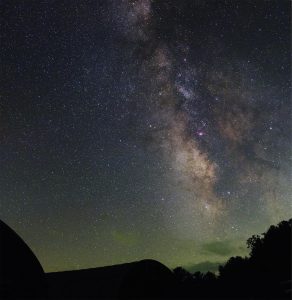 The Blue Ridge Parkway Foundation and Mayland Community College's Earth to Sky Park will host a free 45-minute online presentation 11 a.m., Wednesday, May 10, to discuss viewing the night skies.
Margaret Earley-Thiele, Dean of Advancement, Kyle Lanning, Bare Observatory Manager, and Amanda Pastore, Assistant Coordinator for the Earth to Sky Park, will explain what it means to be an international dark sky certified park and share an overview of the park's Bare Dark Sky Observatory. The program will also provide tips on how to combat light pollution and its effects on pollinators and highlight recommended locations for stargazing along the Blue Ridge Parkway.
The webinar is the latest installment of the Insider's Report series, which highlights the Foundation's projects and programs, ways to enjoy the national park unit, Parkway history, and more. To register, visit BRPFoundation.org/dark skies webinar.
The Earth to Sky Park in Burnsville, N.C., is an environmental educational park for those interested in learning about the natural world we live in and includes the Bare Observatory and Arthur Planetarium.
The Blue Ridge Parkway Foundation is the nonprofit fundraising partner of the country's most visited national park unit. For more than 25 years, the organization has provided support for natural resource protection, historical and cultural preservation, visitor amenities, and educational programs. Learn more at BRPFoundation.org.