Clyde DeLoach is seeking reelection for the Blue Ridge District seat on the Patrick County Board of Supervisors in the November election.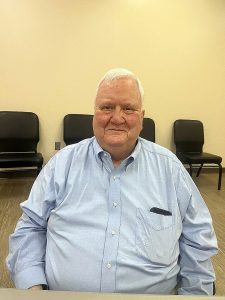 He will face challengers Leon Puckett and Steven Marshall in the race.
DeLoach said he is seeking reelection because the board accomplished some of its goals during his first term on the board, including generating interest in reopening the hospital, balancing the county's budget, and being more transparent with the public.
"We had the budget balanced all four years and we went, according to the auditor, we went from 2019 being in awful, awful shape and now he said we're in very good shape," he said.
Personally, DeLoach has sat on committees with the Virginia Association of Counties (VACO) and has been on the steering committee for two of them.
"All of that kind of stuff can help the county get our name out there. I've got our name out there to everybody, and that includes our representatives, our congressmen, and senators. I went to Washington and talked with Sen. Warner, so I have put forth a big effort to get Patrick County on the map and let people know our needs," he said.
DeLoach said he believes the county had gotten away from a sort of good old boy network and is "much more interested in what is beneficial to Patrick County."
If re-elected, DeLoach said he wants to work to bring more tourism opportunities to the county.
Also, "I want to work on getting an industry. It's more difficult, but I believe we can. So economic development, I think there is an opportunity to do that. I think we've made a good start … and we need to continue stressing tourism," he said.
DeLoach said this requires holding the course and attracting a new county administrator to help direct the county. 
He added that he also is constantly looking for grants to help the county.
"That's one of my passions. I'm on, I can't tell you how many newsletters I'm on now, but every so often, they'll say this grant is available and that grant's available, and I'll pass it along or push it," he said.
Noting a new grant writer that is shared with the school division, DeLoach said "I think all of this is going to work out." 
If re-elected, DeLoach said he will bring experience to the table. He is one of the two board members in the history of Patrick County to have taken the state course on certified supervisors given by VACO.
"I have taken that, and I've learned a lot about history, finances, about how state and local governments interact," DeLoach said. "And I work hard. I'm not going to take a backseat to anybody, and I know the problems. I have spent these four years really getting acquainted with the problems and what we can do and what we need to do to fix them." 
DeLoach said he is putting his record of hard work and knowledge of the opportunities and difficulties the county faces against anybody.
"I think I bring something to the table that would be great for Patrick County