The loss of brakes was cited as the cause of a collision last week while traversing U.S. 58, commonly called Lovers Leap Mountain.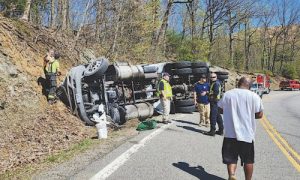 Patrick County Emergency Management Services (EMS) Coordinator Scottie Cassell said the accident occurred on April 13. The call came in around 10:24 a.m. to report the driver of an 18-wheeler tractor-trailer allegedly lost control of the vehicle before a truck ramp.
The vehicle "overturned on its side," he said, adding the vehicle "was carrying bags of fertilizer."
Cassell said a skid steer was used to scoop up the fertilizer.
"Some of it was unloaded by hand – the bags that weren't busted," he said.
The driver was transported to Sovah Health – Martinsville with minor injuries.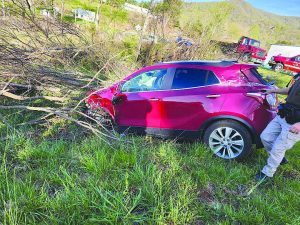 Cassell estimated the entire call, including cleanup, lasted about six hours. The road cleared at 4:30 p.m. One lane of travel was blocked throughout.
Another collision involved a red sedan and an 18-wheeler, Cassell said of the accident that occurred April 12 around 8 a.m. at the intersection of Trot Valley and Central Academy roads.
"The truck lost its brakes coming down the mountain," he said, adding the car "was turning onto Central Academy and got side-swiped by a tractor-trailer."
The driver of the car was also transported to Sovah Health – Martinsville with non-threatening injuries.
EMS personnel cleared the scene around 9 a.m., he added.