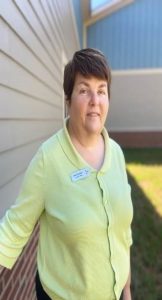 Martha Puckett, outreach coordinator of Tri-Area Community Health, will be the featured speaker for the monthly Senior Forum at The Landmark Center in Stuart. The event is Tuesday, April 25 from noon to 1 p.m.
Puckett will address the rising costs of medications and how the Tri-Area Medication Assistance Program can help residents in our community, whether or not they are insured.
"People with no insurance coverage, those who are insured with high copays, and Medicare patients that fall into the coverage gap may all benefit from this program," said Puckett. "Tri-Area can also assist with applying for Medicaid and Affordable Care Act insurance as well."
Anyone who has concerns about paying for medications, or anyone who would like to learn more about the programs that Tri-Area Community Health is bringing to the community is invited to attend. A healthy lunch will be provided, and those interested in attending are asked to call (276) 694-3050 to register for planning purposes.  The program will be held in the Living Room at The Landmark Center.
The monthly Senior Forum is a community programming effort sponsored by The Landmark Center, Blue Ridge Therapy Connection, and Southern Area Agency on Aging.