In his bid for the Mayo River District seat on the Patrick County Board of Supervisors, Danny Foley said he wants to move the county forward.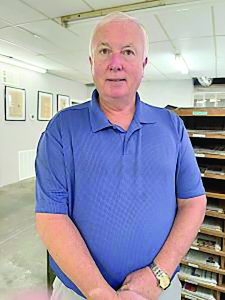 Foley, 66, is facing incumbent Clayton Kendrick in the November election.
He said he decided to run because he thought the county could be and do so much more than what it's doing.
"We're sort of in that holding mode, holding pattern, and we just weren't really moving forward," he said.
When he was getting signatures to officially appear on the ballot, Foley said he was told that there's nothing here for children or young people.
"The reason there's nothing here for the kids, we just never really did any infrastructure to bring in more business. I mean the internet in a lot of places in Patrick County is really bad," he said.
Foley said there's also people in Patrick County that need water because they have iron in their water.
"Egg Farm Road, I had an aunt, she dug three wells and none of them come up good," he said.
Foley believes the biggest challenge facing Patrick County is the need for more and better infrastructure.
"We need to be looking at getting more grants, and that'd be the way to move the county ahead for future business. Without infrastructure nothing's really coming," he said. "You got to have infrastructure for businesses. We're pretty much limited with what we currently have."
While he believes paying for the infrastructure would mostly come from grants, Foley noted he thinks "some kind of match" from the locality would be required.
"Sometimes, you can get grants without a match, it's just you have to apply for them to get them. I know we've hired a grant writer, which hopefully, will help us," he said.
Foley said one thing the county lacks is trying to do more with infrastructure, especially on U.S. 58 going down to the Henry County line.
"We need to look at doing some infrastructure up in Meadows of Dan along the U.S. 58 corridor," he said. "There's a huge potential for growth on both ends of the county."
The county also needs to be more focused on what needs to happen and develop a good five-year plan just for infrastructure as it's going to be the future of the county. 
"Right now, we've got tourism. Sure, tourism is great, but we need more than just tourism to keep the county going," he said.
As a businessman who's been in sales for 30 years, Foley believes that sales is important as if one is good at it.
"You're good at selling the county and feeling the pulse of the people in the county," Foley said, adding the county needs more of a businessperson who has sales experience to promote the county.
"We don't need something to happen and then we say 'woah, we should have done something about that years ago.' We need to look at doing things that need to be done now that haven't been taken care of. Infrastructure in my mind is a really great thing," he said.
Foley believes when the county starts focusing on that, that other things will come.
"I think we've more or less been doing the same thing for years, and that's the reason taxes are going up. We have to start thinking a little bit out of the box. Right now, I think we've got a great thing going on with tourism, and I'm really glad to see that part of the picture has been taken care of," he said.
A supporter of public involvement in local office, Foley said one thing he's campaigning on is going around and talking to local business owners to find out what their needs are and if they see anything the county could do to help them.
"I've already started talking to a few business owners, but there's still a lot more I need to talk to," he added.
Foley said he believes county staff is already transparent, but there are some issues at the Board of Supervisor meetings. One of which is difficulty hearing the supervisors when they speak into their microphones.
"I can't hear a thing they're saying," Foley said. "They need to speak into the microphones. The chairman controls the meeting. He needs to direct the other board members to speak into the microphones, and then if the public still can't hear what's going on, we need to do some upgrading on the microphone system."
Foley graduated from Patrick County High School (PCHS) and took a leadership course through Patrick & Henry Community College (P&HCC) while he served on the board of supervisors. 
He was previously on the board from 2004-2007 and from 2011-2015.
Foley has been in the car-selling business for 30 years. He started out at Blue Ridge Transfer where he worked for 16 years before he moved into car sales.
Foley has one son, one daughter, and three grandchildren. In his free time, he enjoys tinkering with stuff and using his hands.