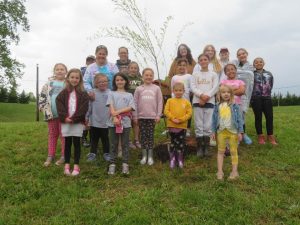 Girl Scouts in Patrick County held their annual spring camporee April 21-23 at Dominion Valley Park. The girls enjoyed the weekend despite the rain and storms. Badges, Patches, Bronze Awards and Silver Awards were worked on throughout the weekend. Lots of good times were enjoyed through games, hikes, good food and lots of good times just being together with friends.
The girls also celebrated Earth Day by planting a tree at the park as a memorial to a former Girl Scout from their troop Callie Crowell, who passed away last November. 
Girls and their leaders want to thank Dominion Valley Park for allowing them to camp there in the fall and the spring each year. The girls enjoy learning about nature and the outdoors as they camp and work on learning many skills that help them to earn badges and patches dealing with the outdoors. 
Girl Scouting is a wonderful way for girls to learn many useful skills that will help them as they grow and mature through all the levels of Girl Scouting. Anyone interested in joining is welcome to contact our group and join in the fun.