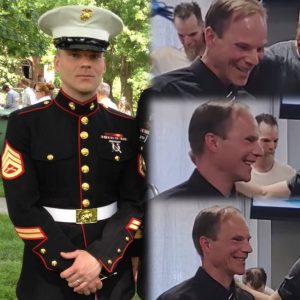 In Loving Remembrance of our Son, Gunny Caleb James Donnelly.
Caleb will be sorely missed by his Family and Friends. Caleb was, and is, deeply loved. What's more, he was admired by the men who served under him, many of whom referred to him as Dad because they could always go to him in a time of need, and he would listen and give counsel to them. Caleb loved his Marines and Sailors who were under his Command. At the age of 42, Caleb left this world and is safely Home as he entered into the Kingdom of GOD on April 25th, 2023.
Caleb was Born at home in Smithtown LI NY on 2/23/1980 to Bob and Susan Donnelly, the third Son of twelve children. In August of 1998, Caleb moved with his Family to Woolwine, VA and, after being Homeschooled, he Graduated High School at Patrick County High in 1999.  At the age of 23, Caleb joined the Marine Corps on March 18, 2003. His tours of duty include Germany, Afghanistan, Iraq, and Japan. He received numerous Medals, Badges, Citations and Campaign Ribbons. His record of Service was impeccable, having moved up in Rank quickly, not something easily done in The Marine Corps, and was the youngest to receive the Rank of GYSGT (Gunny) in his MOS, which was Aviation Electronics Technician. Caleb was Stationed at: Cherry Point NC, San Diego CA, Richmond VA and Hawaii. Caleb Served in The Marine Corps for 16 years and was Honorably Separated on January 30, 2019. Caleb returned home to his Parents' home in Virginia.
Caleb is survived by his Parents, Robert and Susan Donnelly; Brothers, Isaiah Donnelly, Elijah (Elaine) Donnelly, John Donnelly, James (Laura) Donnelly, Noah Donnelly, Levi (Jackie) Donnelly, Jacob Donnelly; Sisters, Shamala (Seth) Donnelly, Faith Donnelly, Cassia Donnelly; Nieces, Arial Hammer, Kalie Donnelly, Chasta Donnelly; Nephews, Caleb Nathanel Donnelly, Callahan Adriel Donnelly.  He was preceded in death by his younger brother, Gideon Nathanel Donnelly.
In truth, such a loss is not survivable by Family, and Friends … and yet in the Mystery our hope is not destroyed – you see, in October 2022 Caleb was completely delivered from his alcohol addiction of many years and far greater, some months ago, Almighty GOD made Himself known to Caleb: I mean radically known, so that he wept with Joy for weeks. His sorrows vanished and JESUS became his Lord and Savior. The Word of GOD tells us that our days are numbered and none of us knows when that day will be. Surely Caleb would have you know that GOD is … and that you can have a new Life if you will seek JESUS with all your heart. Even now, JESUS is knocking; so, if you hear HIM, harden not your heart but open the door and HE will come in… even as Caleb did. Make your election sure.
My Son, my Son, we love you and look forward to the day when we will be together in GOD'S Glorious Kingdom and spend Eternity with you and Gideon, as well as all those who have gone on before.
A Veterans Honor Guard Ceremony will be held on Saturday @ 2:00 pm at Caleb's home@ 185 Hickory Ridge Lane, Woolwine VA 24185 and followed by a Memorial Service@ 4:00pm @ Bethesda House of Mercy, 209 Howard St, Floyd VA 24091.  Moody Funeral Home in Stuart is assisting the Donnelly family, and online condolences may be sent by visiting www.moodyfuneralservices.com.