Trinity Goad, a long-time community servant, was selected to be the Grand Marshal of this year's Meadows of Dan Christmas Parade, held annually on the Saturday after Thanksgiving.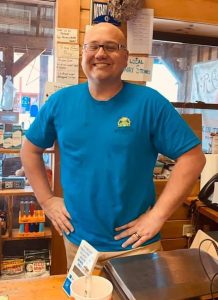 Goad, who along with Brenda Quesenberry (now deceased), "spoke the" parade into existence 13 years ago. The two "immediately set about acquiring the permits and choosing a date that took all other county events into consideration—the Saturday after Thanksgiving was decided on. This is still the day the Meadows of Dan Christmas parade is held every year," according to Angie Dribben, who has since moved to the Meadows of Dan community.
"At the parade, you can always expect Santa to make an appearance as well as classic cars, chromed-out tractor trailers, and a Ruritan club's float," Dribben wrote. "The other excitement to anticipate is the Grand Marshal, who is often chosen because they are someone who contributes to the community without seeking recognition or profit. In years past, we've honored generous community members like Betty Lou Banks, Annalee Shelor, Pat Stanley, and Brenda Quesenberry.
"These are folks who show up for fundraisers like Pancake Days, Hotdog Socials, and Spaghetti Suppers. Citizens who know who is hungry and ensure they are fed, warm, and safe," Dribben wrote. "They care about their community because to nurture and nourish rests at the core of their souls. It is no surprise that this year, our Grand Marshal is Trinity Goad."
Dribben notes that "Goad is a backbone for Meadows of Dan. He's one of the first faces you see when you come to town. A several decades employee of Poor Farmer's Market, he is present constantly in the heart of our community."
Many activities benefit from Goad's talents, time, and attention to detail.
"When it looked like we would be without a bank, it was Goad who leaped into action, contacting the CEO and President of Skyline Bank to begin negotiations to bring a branch here," Dribben wrote. "Goad organized meetings, sent emails, and blasted social media so that we would know to show up and show support thus helping to make our community desirable to Skyline. Thanks to these efforts we now have a branch of Skyline Bank."
Goad also heads the Meadows of Dan Community Association, Dibben said, and "one of the organization's responsibilities includes hosting the folk fair—held on the third Saturday every August—now coming up on its 20th year. This event draws people into town who support the vendors as well as our local businesses. The fair is also a significant fundraising opportunity for Meadows of Dan Elementary and the Ruritans."
Goad served as president of the Meadows of Dan Ruritans twice and was Ruritan of the Year. He served on the Patrick County Chamber of Commerce for six years, holding the offices of president and vice president twice, she said.
"While taking responsibility for these roles is the mark of a leader," Goad is more than that, Dribben said. "He is so central in the community that he knows the needs of individuals. He quite literally helps people keep their lights on. Sometimes a child needs a coat, sometimes a tutor. Either way, Goad sees to it the need is met."
He also helps newcomers navigate their way into the community and welcomes everyone without judgment. In short, "he shows us where we are needed and makes us feel as though we belong," Dribben said.
"I can't imagine the ways our town would dim without him. He does far more work than any one of us knows, especially since he doesn't tell. Being a good Samaritan is simply who he is," she added.  
Stephanie Eckman, also a newcomer to the community, said, "We are new to Meadows of Dan. Early on, everyone told me if I needed to know what was happening in town, Trinity is the one with the low down. After getting to know him, I realized he isn't just in the know, he's a leader in our town. He's a friend to all and gets whatever the job is done no matter the circumstances. He's an easy pick for Grand Marshal 2023 and definitely earned the unofficial, but universally recognized, title of Mayor of Meadows of Dan."
"Trinity is one of the most friendly people in Meadows of Dan. As president of the Community Association, he has earned this recognition. He organizes both the Folk Fair and the Christmas Parade for our community every year," said Betty Banks.
When asked why he does this work for Meadows of Dan, Goad said, "This is a place I want to see be and remain vibrant." He added that the community is his home and not just his address.
The Meadows of Dan Christmas Parade is held annually on the Saturday after Thanksgiving. The parade begins at 3 p.m. Line-up begins at 2 p.m.
Santa Claus will make an appearance at Primitive Coffee Shop after the parade.
Call Goad, who is the director of the parade, to enter or if you have questions, at (540) 230-7943.