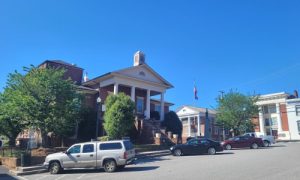 The announced retirement of Patrick County Circuit Court Clerk Sherri Hazlewood has stalled a petition to remove her from office.
Pulaski County Commonwealth's Attorney Justin Griffith, who was named special prosecutor in the removal process, said Hazlewood is submitting her retirement papers, which will be effective July 1.
"Therefore, upon that being done, I am no longer asking that the Patrick County Registrar certify the signatures on the petition, and there will not be a show cause filed," he said.
According to previous reports, there were 545 signatures on the petition. It alleged Hazlewood "presented an unwell mental state during the 2022 year, directly affecting the office and county," and "has neglected numerous duties pertaining to the job of Clerk over the 2022 years resulting in copious orders not being filed and/or filed correctly."
Griffith said the petition's goal of removing Hazlewood from office was met by her retirement.
"There's nothing to dismiss or remove from the docket because the petition was going through the certification of the signatures process," he said.
Once that was done, there would have been a show cause filed. However, that did not happen.
"So, there's nothing to dismiss because no official show cause was filed. The necessity for the show cause is no longer there with her resignation through retirement," he said.
Griffith said he was pleased with being appointed on May 9, and then being officially informed in writing on May 17 that Hazlewood would be vacating the office.
"I was proud to represent Patrick County's interests in this matter," he added.
Hazlewood, 54, of Claudville, has charges pending in Patrick, Franklin, and Bland counties.
Hazelwood has not been convicted of any of the charges.
Patrick County Circuit Court Judge Marcus Brinks appointed Morgan Boothe to serve in the position in Hazlewood's absence.
Hazlewood currently remains in her elected position as clerk. She is being paid $116,831, or a monthly salary of about $9,700, according to previous reports.
Citing personnel issues, Donna Shough, the county's Human Resources Director, declined to provide information about retirement benefits.